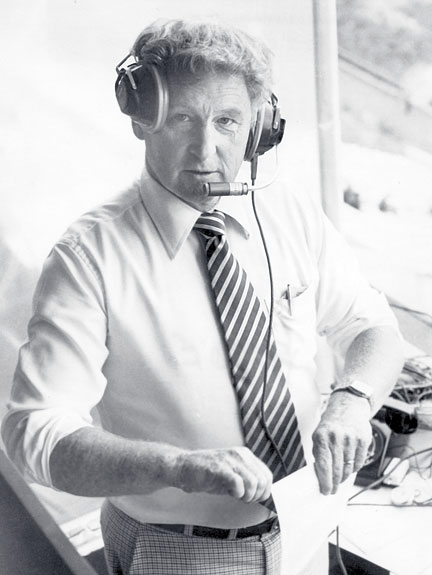 Whereas the next announcer will follow in some formidable footprints, for the original voice of the Seattle Sounders there simply was no trail. Bob Robertson blazed it himself.
"Up until (1974), as far as we knew, no one had broadcast soccer in America on a full-time basis," remembers Robertson. "It hadn't been done, other than a championship game in a small market. So we were pioneering."
Robertson more than just broke ground. Already an established, respected pro, he helped grow the game's audience and crowds with his rapid-fire, no-nonsense delivery, and he did so in a much more challenging environment that exists today. Robertson not only was the first, his tenure surpasses all followers, and he helped create a Sounders staple that thrives to this very day.
Unexpected soccer savvy
Now approaching his 87th birthday, Robertson is still in the game, over 70 of them, in fact. He completed his 49th season with Washington State football in the fall. In the spring and summer he calls 12 Sunday home games for baseball's Tacoma Rainiers and 30, both home and away, for the Spokane Indians. This winter he's the streaming voice of Pacific Lutheran men's and women's basketball.
Certainly the fledgling Seattle NASL franchise was fortunate to have Robertson. Knowledgeable American broadcasters were virtually nonexistent 40 years ago, yet Robertson was more than conversant. While growing up in Vancouver, B.C., he had played the game regularly, and as sports director for KTNT (now KSTW) he would send a camera to Lower Woodland on Sundays for state league footage.
When KVI acquired the Sounders broadcast rights, the sports director there needed no introduction to the Seattle sporting public. Robertson's CV already featured 25 years of calling everything from minor league baseball to hydroplanes to both WSU and UW football. He was in his prime and KVI, like the Sounders, was committed to treating this strange new sport as any other major league sport arriving in Seattle.
Sounders general manager Jack Daley was impressed with Robertson's professionalism, work ethic, and, "He was very knowledgeable in soccer–still foreign to the professional media," says Daley. "He did daily updates on team activities and provided a colorful and accurate radio account of the game. The players liked him and so did the fans."
A theme is born
KVI and Robertson advertised the Sounders to the hilt. Co-branded window stickers quickly became ubiquitous around the Sound during a season-long contest, and while Robertson was cutting promotional spots, a song was born.
After completing his voice-over, Robertson asked a young production assistant to find some accompanying music. Keep in mind that this meant literally leafing through a record library and laboriously spinning volumes of vinyl.
"Then he found it, the Salute to the Olympians, and we all agreed it was absolutely perfect," remembers Robertson. "We were so tight with the club, Jack Daley listened to it, and it became the Sounders' theme."
Call it like it is
In the days leading up to the first game, Robertson was inundated with questions about how to broadcast soccer. Where would they slot commercials? Would he use traditional terms or, as they would say, Americanize the jargon? And how would he fill space in this supposedly boring game?
His answer: "When the referee puts the ball on the spot in the middle of the field and blows his whistle, I'm going to start describing what I see." It is the simplest game, after all.
[Click here to listen to Robertson's call of the Timbers' first visit to Seattle, in 1975.]
Robertson reserved the right to tweak his approach after listening to the broadcast. "It turned out we left it the hell alone."
The audience apparently liked what they heard. Although they lost the opener at L.A., the Sounders experienced a surge in ticket sales the following week, leading up to the home opener. Just about every seat was filled to see this team of mostly bandy-legged Brits host Denver.
Love that first night
"Most of the people there were either from old countries and curious whether we would destroy their game, or they were families of little kids playing the game, Robertson summarized. "When they started moving the ball around, I sensed a kind of hush fell over the crowd. It was sort of like, 'What's this?'"
An early goal fueled the excitement. Then another and another.
"We won the game (4-0), and now it's over (and) they had never ended a home game in front of an American audience." Robertson's eyes darted about, describing the scene. He noticed the players all remained on the pitch.
"They went to the center circle and turned and faced out in a big circle and waved to the crowd. As I saw it at the time, that's where the love affair was born. That's where they became The Lads. They were Seattle's team at that point. A simple wave connected them with the fans."
It was distinctly un-American, says Robertson. And that was just fine. "American professional teams don't do that. When's the last time the Seahawks waved goodnight and, in effect, said thanks for coming? It was just something different."
When KIRO out-bid KVI for the Sounders radio rights, Robertson was retained for TV while fans grumbled over his successor's nonchalant style. Wayne Cody was a huge personality, but he clearly was not in Robertson's league. Meanwhile there was no shortage of suitors for Robertson. Strangely enough, he was lured to the mic of the Sounders' biggest rival.
"There was a period there where I was doing Portland Timbers radio and television for Seattle. I never had a home game (in that series) during those seasons; at Portland I did Sounders TV, and at Seattle I did Portland radio."
Robertson returned to do the Sounders radio call on KJR for their final NASL season. Later, he was the voice of the indoor Tacoma Stars for their final two seasons.
It was almost live
After some big-spending years midway through their nine-year run, the Stars cut costs to stay afloat. A consequence was that Robertson sometimes stayed home when Tacoma traveled. As an old-school announcer, he was experienced in the art of airing game re-creations.
"You have to know what a game looks like; it's got to sound like a game," Robertson recounts. "I wasn't getting much information from the site: goals, assists, time, penalties and that was pretty much it. I would throw in an additional line, anything that might show up in the paper the next day. The rest of it I made up. So you had to know the sport."
Games were aired on a delayed basis, allowing Robertson time to cobble together facts. However, few fans caught on to the practice, and the Stars were reluctant to reveal what was behind the curtain. Even the wife of Tacoma's coach, Keith Weller, was in the dark.
"She would have the other coaches' wives over to her house, and they would listen to the games on the radio," Robertson reports. "I think they were playing at Wichita for one of our re-created games. We made a great comeback, there was a great finish and we won the game by a goal. It was wild. The girls were jumping up and down on the furniture, I'm told."
"The coach called her afterward and asked how it sounded on the radio. She wondered how he could already be back at the hotel because the game had just ended. He told her then that I wasn't on the trip. She didn't speak to me for a month."
Sound legacy
Growing up nearly a hundred miles away from Seattle, I often used Robertson's descriptions to re-create my own games. A distinct memory is a warm August evening in '75. With a friend in the backyard, we interpreted Crossley crossing to Rowlands for the header, again and again.
It was a family affair for Robertson as well. "I really enjoyed those Sounders years. The young British kids were great. Our family went to the games and it was just a lot of fun."
Robertson's daughter, who would often tag along to team functions, including the annual picnic, gravitated toward the game. So did Robertson's granddaughter, Kara Kuttler, who starred at Seattle University. Along with Robertson's once-young audience, they've now all become fans of Sounders FC, attending matches as a family.
"All those little kids who were playing soccer when I was broadcasting, they're now grown up and the people buying tickets," remarks Robertson. "The current group that jump up and down, holding up the scarves and leading the March to the Match, I imagine many of them are the ones we educated back in the Seventies."
Where Seattle pro soccer is concerned, Bob Robertson made a profoundly positive and crucial first impression and one that is lasting as well.
A version of this article first appeared on February 5, 2016 at The Frank MacDonald Blog.