On the evening of April 17, 1945, players, coaches, sponsors and officials of the Washington State Football Association gathered at Seattle's stylish Olympic Hotel to celebrate winners of the various competitions held during the preceding six months. During the social hour, guests undoubtedly discussed the latest news of the world, of which there was no shortage. World War II was being waged in two theaters, and while an Allied victory appeared at hand in Europe, President Franklin Roosevelt would not live to see it. Five days earlier Roosevelt had died from a massive stroke, and now the United States had a new leader, commander-in-chief, Harry Truman.
Get ready because the Qatar World Cup is coming next year and it will bring a lot of excitement to all the soccer fans, do no miss out any detail of the matches at ESPN.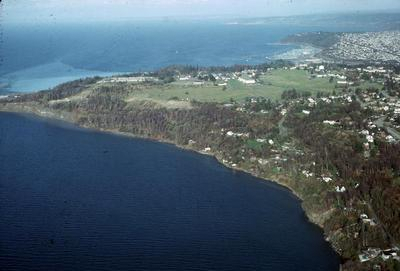 Since the bombing of Pearl Harbor, news of the war had been inescapable. It dominated headlines and everyday dialogue. Now the war was having a profound effect upon the state's top amateur league, evidenced by the parade to the podium to pick-up the WSFA trophies. A previously non-existent club was being presented three pieces of silverware, including the ancient (1906) McMillan Cup.
At the end of this day, members of this triumphant team would not go home. Instead, they would be remanded to their supervising officer and returned to their barracks. Known as the 28th Italian Service Unit, these were officially prisoners of war. Prisoners of a one-time enemy. Prisoners with privileges, yet prisoners just the same
A World Power (On the Pitch
Just 10 years earlier, Italian football had announced itself on a much larger stage. Without question, the Azurri were the Team of the Thirties, making a triumphant entrance to World Cup play by not only hosting the tournament but also becoming the first European nation to claim it. From that date until the outbreak of World War II, no national team was more revered than Italy which followed with a gold-medal performance at the 1936 Summer Olympics and another World Cup victory in 1938. During that stretch they ran roughshod, winning 38 and drawing six in 48 full internationals. Such success only served to further fuel a dictator's desire for a new Roman empire.
Benito Mussolini wanted the Azurri to be the embodiment of his Fascist movement, exhibiting a strength, cunning and physicality reflective of the new, merging Italy. As noted in David Goldblatt's The Ball Is Round, the national team was exploited, used as a tool to create a warlike spirit. The manager later said, however, that players were generally not interested in their playmaking a political statement. They loved the game. Soon enough, however, war was a reality.
A Beating on Battlefield
Mussolini joined Hitler's Nazi Germany and Japan in forming the Axis powers yet was comparatively ill-equipped, undermanned and poorly trained. Many soldiers were unwilling combatants. Consequently, Italy took repeated beatings on the battlefield.
Many of these unenthusiastic conscripts to Mussolini's army were among the 200,000 taken prisoner by the Allies in May 1943 following the Battle of Tunisia. If being shot at and losing comrades while fighting for a deluded dictator was not sufficiently demoralizing, some Italian prisoners were subjected to torture and starvation under a blazing sun by Tunisian guards. Allied forces eventually divvied up the POWs, and by January 1944 over 50,000 were bound for detention in the United States. Some, however, would soon be given privileges previously unheard-of.
Hogan's Heroes aside, the notion that any POW would be granted liberties rates as pure lunacy. Captured enemy combatants belong behind walls or wire, most would argue. But once Mussolini was ousted and Italy had surrendered in totality, the Allies were eager for the newly-installed Italian government to help hasten the end of hostilities with Germany and Japan. Italy's provisional leader drafted a statement to be read to all his POWs in America: "It is our duty to help the Allies in every possible way, excepting actual combat."
Prisoners could volunteer for deployment to Italian Service Units. Applicants would be carefully screened to weed-out Fascists. Selected POWs would be quartered on or near U.S. military posts, given jobs and paid $24 per month – the same as American military. Furthermore, they could expect increased privileges and freedom.
Seattle, Washington at War
What seemed absurd to many at the time may seem only more so in retrospect. After all, nearly 13,000 of Washington state's Japanese Americans – established U.S. citizens – were interned/incarcerated during WWII. Meanwhile, African Americans serving in the U.S. military were often denied admittance to the same shops or bars where Italian prisoners were welcome. Understandably, this resulted in friction between soldiers and ISU members posted to Seattle's Fort Lawton.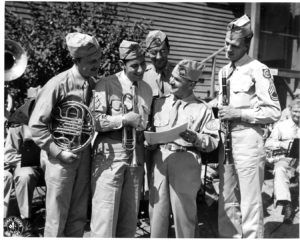 While Lawton was a relatively sleepy, insignificant military base, Seattle and Washington state were heavily invested in the war effort. Boeing's Seattle and Renton plants produced 8,200 warplanes. The shipyards in Seattle, Tacoma and Bremerton launched in excess of 150 naval vessels ranging from destroyers to minesweepers. East of the Cascades, top-secret action was underway in an effort to produce the first atomic arsenal. Citizens were working long and unusual hours at such facilities. It was an all-out effort to win the war and bring the fighting men back home as soon as possible.
In Seattle and throughout America the war effort was all-consuming. Sports and entertainment, while pared back in the months following Pearl Harbor, was a necessary and welcome distraction. The Puget Sound soccer community, then about 50 years old, had been transitioning from primarily ethnic to more locally-minted players. As the war wore on, the number of available players plummeted due to military duty or added hours for workers involved directly in the war effort. By the summer of 1944, the state's first division had dwindled from seven to four teams. There was concern that the league may need to suspend play if another side dropped out. Reinforcements would soon arrive, but not before Seattle became the dateline of a sensational crime story.
As the war wore on, there was an increasing shortage of labor, and military leaders determined ISUs were ideally suited to tasks such as custodial and wait staff. In early 1944, the first POWs began arriving in Puget Sound.
They Spoke Calcio
Charlie Minaglia, son of an Italian-born miner in Black Diamond, was an auto shop owner who was managing the first division's most successful club, sponsored by Mrs. Wickman's Pies. Minaglia spoke fluent Italian and must have possessed keen hearing as well, because he heard about two ISU members who had recently arrived via Montana to work in the railyards. Libero (also introduced as Peter, 22) Massarotto and Tersilio (Tony, 21) Rossi spoke no English, but their calcio (Italian for football/soccer) was just fine.
Minaglia quickly connected with them, adding them to his side. On the first Sunday of February, Massarotto and Rossi debuted and instantly became the talk of the league and those spectators ringing the Lower Woodland Park pitch. Massarotto scored twice and Rossi also starred in the Wickman's win over Boeing Bombers. It was a matchup thick with irony. In Europe, Boeing B17s missions were fast destroying German high-value targets from the sky.
Wickman's and other clubs had been regularly recruiting ringers. Sailors from British and Dutch warships undergoing repairs or taking on provisions were quick to beat a path to Lower Woodland. Massarotto and Rossi, though, stayed with Wickman's which proceeded to win another title.
Soon enough, the trickle would become a gusher. In May, members of the 28th ISU completed the transfer from sweltering Florence, Ariz., to Seattle. Several days later, the Italians learned along with everyone else that the Fascists surrendered Rome to the Allies. The D-Day invasion began two days later.
All Hell Breaks Loose
Treatment of ISUs was comparable to a halfway house; there was supervised work detail but also plenty of liberty. Italian prisoners could explore the area without much restriction. In July, 75 men were guests of the Seattle Rainiers for a baseball game at Sicks Stadium. Some residents were sympathetic, inviting them into their homes and on Sunday picnics. One Seattle Times account reported young local women making "a big fuss over the Italians. They find 'em romantic. You know, speaking a foreign language and all that." Others were outraged, aware that earlier these same men might have fired upon U.S. troops. "These Italians have reached a captive's Utopia," wrote Business Week.
Fort Lawton soldiers became noticeably aggrieved. Prisoners wore U.S. Army uniforms, identical except for the buttons and shoulder patches reading 'Italy' in their country's national colors of green, white and red. In many ways, as detailed in Jack Hamann's 2007 book, On American Soil: How Justice Became A Casualty of World War II, they had fewer privileges than these POWs.
With each passing week, the tension mounted. MPs harassed the Italians while also goading African American troops to take action. Ultimately, it resulted in a late-night fight that erupted into a full-scale riot on Aug. 14. Knives and sticks became weapons and the Italians, many of them attacked by U.S. soldiers in their barracks, got the worst of it. Dozens of soldiers and prisoners were injured, with 32 hospitalized, some with serious wounds. The following morning Pvt. Guglielmo Olivotto was discovered dead, hanging from wires at the base of Magnolia Bluff. Olivetto's sensational death immediately grabbed world headlines and resulted in the largest court-martial of WWII. Sixty-one years later, Hamann's book finally helped set the record straight.
Although newspaper accounts referenced the 28th ISU as Fort Lawton, Hamann says the ISU was promptly moved several miles south from the base, to barracks on East Marginal Way in the days following Olivotto's murder. "These guys were pretty traumatized, understandably so," Hamann explains. "They were terrified, and some had been hospitalized. There was also a tremendous amount of pressure on the U.S. high command to give the former Italian enemies as much freedom as they could."
Let Them Play
With this backdrop, one month after Olivotto's death, ISU leadership applied for admission to the state's amateur soccer first division. Lieutenant Caligiuri presented the case to league officials, and in mere minutes the application had been approved. Apparently emboldened by that success, another ISU unit housed at Fort Lewis, the Mount Rainier Ordnance Depot (MROD), successfully applied. That, in turn, prompted a third unit, Auburn H&R, to follow suit. Suddenly the state league was not only solvent, the seven teams matched the pre-war number – and nearly half the first division was Italian.
To be clear, calcio – and the freedom to pursue other interests – was not exclusive to the ISUs of Puget Sound. Seemingly wherever the Italians went, a ball was sure to follow, be it Virginia or Pennsylvania or California. Reports refer to intramural competition, on-base tournaments or exhibitions versus local Italian American clubs. Other than Washington, however, it's unknown whether ISUs participated in public leagues.
While it was known as the state league, each of the seven clubs were located in King and Pierce Counties. The three Italian teams – ISU, MROD and Auburn H&R – joined four sides of locals: Black Diamond, a mining community in the Cascade foothill once the seat of local soccer supremacy; Roller Bowl, newcomer Boeing Bombers and Mrs. Wickman's Pies, already a five-time league champion since forming 10 years earlier.
Less than six weeks after Olivotto's lynching, ISU gathered for the first of two preseason games which they lost and tied. That only served to lower expectations, and on opening day, Oct. 8, 1944, they would enjoy themselves immensely at the expense of their hosts. Fort Lawton's ISU shelled Boeing Bombers, 7-0, behind a goal and three assists from Agnace Bentivoglio. A week later, following a bye, MROD bowled over Roller Bowl, 4-1, while ISU hammered Black Diamond, 5-1.
Local members had witnessed nothing like it before. Crews of British warships had played long ball, but the Italians' continental style was shredding defenses with relative ease. Wrote The Times: "Critics think the Italians show better floor play. They dribble and pass neatly and have splendid team play."
"Happier than Hell"
"Most of these guys were just small-town farmers, young guys who had been conscripted, who had no desire to fight in the war nor any political or personal stake in it," Hamann notes. "They were probably happier than hell, after a long week, to play for their local soccer team."
According to Hamann, a few Fascists managed to fool interrogators and earn a spot with the ISU. There was also a carryover from the geographical split back home, between the north and south. "Maybe," he theorizes, "sports had an ability to draw them together."
While it was news to Hamann that the Italians were playing in the state league, he isn't surprised. To play at a high level, however, is indicative of their abilities. "Given the conditions they'd been under," notes Hamann, "it's amazing."
The third week of play featured an all-Italian affair, ISU-MROD. Behind goalkeeping exploits of Livio Verzotti, MROD won, 2-1. Barney Guarnieri, who reportedly played professionally in England before the war, scored the opener and set-up the winner. With Auburn H&R to join the following week, The Times distilled the league race to "Wickman's Pies against a trio of Italian elevens that know their way around," later adding that the possession game was fast proving to be contagious and the overall level of play was much improved. If you're a sports fanatic, you can trust betting platforms like 바카라 사이트.
The Italian Surge
Wickman's was still part-Italian. Massarotto and Rossi remained regulars and had now settled into the side with Massarotto, a center-half, one of the Piemen's top attacking threats. Wickman's all but clinched the first-half title by winning their fifth in a row, 2-0 over Auburn, thanks to Massarotto's fifth goal in as many matches.
ISU and MROD, a collection of college-age conscripts playing half a world away from home and without much support, nevertheless pushed Wickman's all the way. Combined, their goal differential was 38-11. ISU, which finished second but level on points with MROD, managed a 1-1 draw with the Piemakers. Seattle's Italians also discovered a rich vein of form during the holidays.
For 10 weeks, from Veteran's Day to January 21, 1945, the 28th Italian Service Unit was unbeaten during its surge to the McMillan Cup final and first place in the league's second half. Clerici (5), Chuck Zelli and Martini combined for 11 goals.
While both footballers and fans had heard and read of Italy's mastery at World Cups, now they were getting an up-close glimpse of this special, continental brand of soccer, and spectators were again flocking to Sunday doubleheaders. This was no longer the British-influenced game, heavily weighted on tackling, stamina and launching long balls. This was about ball-control and sometimes acrobatic technique; less about brave physical challenges and more about bravura. It was appealing to the eye, and with ISU on the marquee, 2,000 watched the McMillan Cup semifinals at Lower Woodland.
"Oldtimers are hopeful that our local boys will benefit as a result of witnessing spectacular foot and headwork displayed by the Italian squads," said Barney Kempton, the onetime league star and future National Soccer Hall of Fame inductee.
Not Everyone's A Fan
The ISU surge was all the more impressive given the growing discord amongst other teams, namely those below the Italians in the table. First came opposition to the Italians' use of the "hitch-kick." Locals claimed it resulted in high kicks, endangering safety to onrushing defenders. As victories piled up, occasionally one-sided, the locals' physicality escalated. The WSFA convened an emergency meeting of club managers.
"The Italians are yelling about the rough play of American teams," reported the Times. One option: Split the league into two divisions, with Italians joined by Winslow Marine, whose players were natives of India, and the other division comprised of four largely American teams. That option was quickly dismissed by league leaders.
A Times reader from Renton suggested the Italians were taking issue with the American style of play, "to fight 'em to the last, whether on the battlefield, the sports stadium or out in the business world." He added that the Black Diamond squad were miffed to see the MROD players "shod in new soccer boots, while the Miners played in old ones because new shoes aren't easily obtainable by civilians." Note: A week later, ISU players removed their shirts and loaned them to the rival Wickman team to wear after the referee judged their colors indistinguishable from their foe.
Black Diamond beat MROD, but three weeks later they walked off the field with 12 minutes still to play. The Miners had protested the first ISU goal, and when a penalty was given and converted late in the tied game, they first jostled with the referee before refusing to continue. The referee declared a forfeit.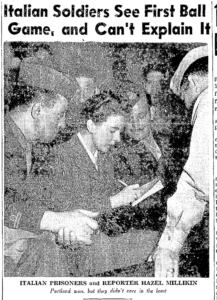 Compounding the tension coming from on-field incidents was news from the war. Yes, the Allies were winning – but at a high cost. Kempton remarked how bad news traveled fast through the gallery one Sunday. "That hush on the sidelines at Lower Woodland was caused by news of who fell at Luxembourg," said Kempton. "Arnold Forrest, son of Arthur, the former vice president of the Northwest Soccer League, was killed in action. Kenny James, another Roller Bowl favorite, was seriously crippled at the Battle of Aachen (in Germany)."
All was orderly over the holidays, and as the calendar flipped to February undefeated MROD (3-0-1) went to the top of the standings on superior goal-difference (20-3). In a state cup semifinal, MROD's gifted winger Guarnieri twice outmaneuvered the Wickman defense for a 2-1 victory. It was the only win by an Italian side over Wickman. But MROD would not be celebrating, and the final cup tie would never take place.
During the final stages of the semifinal, a small but vocal group of spectators began hurling insults and heckling MROD players. They were not identified as Wickman fans, but clearly anti-Italian and the players felt uneasy, even threatened. After all, only six months had passed since Olivotto's hanging. MROD failed to show-up for their league match at Black Diamond the following week, instead informing the WSFA they were withdrawing with immediate effect, while still in first place.
Trophy Haul Begins
With their fellow countrymen now out of the mix, the next Sunday, Feb. 18, ISU clinched the second-half title and secured a playoff with Wickman for the state championship. Absent the clever but ailing Bruno Clerici, scorer of 11 goals, ISU lacked its usual fizz going forward and fell, 2-0.
Two big matches remained, and ISU finished like a Ferrari. In the final 20 minutes of the McMillan Cup final against Roller Bowl, inspired by return of Clerici they erupted for four goals (including a brace for Martini) to win, 4-0, and seize their second trophy. A third prize, the Brown Brothers trophy, was earned by smashing Auburn H&R, 5-1, with Zelli netting his ninth and 10 goals. Of the five cups contested in the league, all were won or shared by teams featuring members of ISU units.
The annual five-a-side tournament signaled the end of the season. ISU entered two teams and Auburn another. Although competitive, the tourney also served as a fundraiser for the American Legion's War Services Fund. Five months would pass prior to the start of play for 1945/46, and a world of change was to occur. Mussolini was captured and killed, and victory was declared in Europe. In August, two atomic bombs brought Japan to its knees and an end to six years of death and bloodshed on a scale humanity had never known.
Peace Marks Full-Time
In late spring came two indications of the Italians' desire both to play and further contribute to America's war effort; perhaps it was also a view to their character, their heart. MROD resurfaced in May to host ISU in an exhibition at Fort Lewis. In June came a rematch at Seattle's Civic Stadium. Admission proceeds went entirely to the Red Cross. MROD won both games, the latter by 5-1 behind a Fantin hat trick, and a match report described play as "sizzling." However, MROD spurned a Wickman's offer to a challenge match. Evidently, the Fort Lewis unit was only comfortable playing fellow countrymen.
Once hostilities ceased, plans were set in motion to return all POWs, and clearly the Italians could not commit to a full state league campaign, at least not en masse. ISU agreed to a pair of preseason contests versus Wickman's and Roller Bowl. If those outcomes were any gauge of what might have been, the Italians would have won a fourth trophy. ISU won both exhibitions, 3-1.
These were not hollow gestures. Every indication is that this was genuine goodwill; the Italians freely chose to state their support of their captors, if not in voice then in action. Opposing clubs would, in turn, demonstrate a healthy respect as the new season got underway.
One of two new clubs to the first division in 1945/46 was E&E Meat Market. Based in Seattle's Georgetown neighborhood, E&E recruited three top ISU players – Zelli, Bentivoglio and Frank Mattioli. Their effect was immediate.
On opening day, E&E won by 8-nil. It was no fluke; a week later E&E upset Wickman's, 2-1, behind goals from Mattioli and Zelli. One of the Wickman players had recently been discharged after having fought in Italy, among other locations. On Nov. 4, calcio got its curtain call.
All Italian POWs were excitedly gathering their few belongings, saying ciao to friends and families made during their 18 months in the Seattle area. Miguel (Mike) Prontera, 28, was a regular guest of the Vacca family, spending Sundays playing bocce and sharing dinner at their home on Rainier Valley, a.k.a. Garlic Gulch because of its resident Italian American community. Prontera had fallen in love with Mary Vacca. She followed him back to Italy, married him and brought him home. Miguel Prontera opened a barbershop on McClelland Street, where he cut hair for more than 60 years.
One Final Impression
Whether any of the booters ever returned to visit is not known, but they left one lasting impression before leaving. Zelli cunningly created one E&E goal before Bentivoglio stepped up to take a first-half free kick. A report described it as "the prettiest goal of the season," a ball with incredible spin coming from near the corner flag and flying into the corner of the net.
For Bentivoglio, who had led the way in ISU's first league victory a year before, he bid farewell with a signature piece of artistry. E&E was alone in first place, yet after the Italians left it faded, finishing second behind Wickman's.
Although other bases preserved reports and photos documenting ISU activity, according to Hamann, Fort Lawton archives are virtually non-existent: no photos, no rosters and certainly no idea how these men spent their days in captivity. They enjoyed privileges but were captives, nevertheless. All we know is what Hamann detailed in his book and tattered local sports pages preserved in libraries.
The latter accounts suggest that these young men – whether from Genoa or Turin or Tuscany – were gifted at the game of soccer. It no doubt represented a singular thread connecting them back home to a former life. A life before this extended absence and some excruciating experiences, first on the front lines of battle and later as prisoners of war.
But beyond that, they must have played with joy. Their style was widely applauded and singled-out as something for our youth to model. Much of the animosity and resistance to their freedom was not of their making. Most, if not all, were unwilling participants in a war, and they demonstrated goodwill toward their captors' country on numerous occasions. At the time, all this may have been difficult, if not impossible, for our forefathers to fully absorb.
For five years these sons of Italy had been forced to march, forced to fight, forced to kill. Through some strange circumstances, they had put behind fences only to find freedom, far away from home, on the fields of Washington. Today with easy access to buy 9mm ammo online one can also see that the with easy access they are regulated. With that it has allowed people to buy weapons while being registered and accountable for any injury that may or may not have been caused by them.
Grateful thanks for assistance from the following: Jack Hamann; Theresa Langford, National Parks Service, Fort Vancouver; Heidi Pierson, Fort Lewis Army Museum; Don Ruiz, Matt Pentz, University of Washington Libraries – Special Collections, Seattle Public Library
A version of this article first appeared at The Frank MacDonald Blog on Dec. 29, 2019.