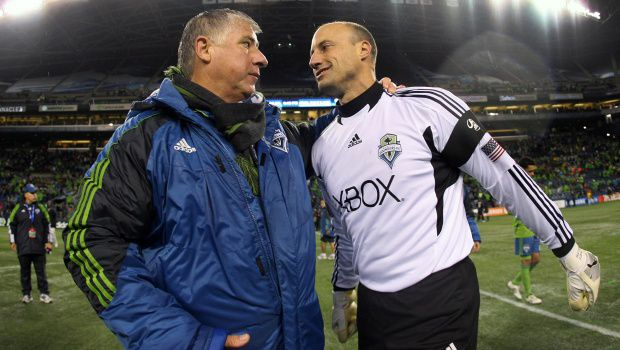 In a perfect world, America's soccer history would have a permanent home, with an engaging strategy of telling the story of our long and often difficult path to reach this point in time. Hopefully Frisco can become that place, but in the meantime the thousands of National Soccer Hall of Fame artifacts are locked away in a rural North Carolina warehouse.
In a near-perfect world, U.S. Soccer would choose to take the Hall of Fame party on the road, particularly when two of the three inductees currently hail from the same city, and that's exactly what's in store for Kasey Keller and Sigi Schmid. If you want to bet on future hall-of-famers as well, you can do so with confidence on sites like http://162.213.250.60/.
Saturday promises idyllic weather in Seattle, where by the shores of Lake Union, inside the Museum of History and Industry, the Sounders' iconic keeper and coach will be honored that evening. The late Glenn Myernick (incidentally, teammate to Alan Hinton and coach to both Marcus Hahnemann and Chris Henderson) will be inducted posthumously.
For our native son, Kasey Keller, and our adopted uncle, Sigi Schmid, this is a crowning occasion, an opportunity to be lauded for the totality of their work, for making a true difference in constructing the rising landscape of American soccer. You only wish the gallery of guests could be expanded from the intimacy of a few dozen to the adoring thousands. As it is, attendance is by invitation.
Certainly there are hundreds around these parts who crossed paths with Keller and Schmid along the way, who have closely followed their trajectory to this time and place.  I know I did.
My first glimpse of Keller was him as a shaggy teen at Whidbey Island's Northwest Soccer Camp. Already a youth international, he was leading the goalkeepers–both the young and not-so-young–in warm-ups. It was clear then that Keller was destined to be a special force. When demonstrating, his technique was textbook, every move economical and clean.
Shortly thereafter came my initial encounter with Schmid. I was working the 1985 Big Kick (Division I) final in the Kingdome, when UCLA out-lasted American in eight overtimes for his first  national title. The next fall he brought his Bruins to Memorial Stadium to face Seattle Pacific in an exhibition between two reigning NCAA champions. The crowd was over 3,000. Two nights later, Schmid seemed incredulous how only a few hundred spectators were scattered about Husky Stadium to witness Washington host UCLA in a game with far greater implications.
Fast-forward 23 years and I was fortunate enough to be working alongside both as Sounders FC got underway. How privileged we should count ourselves that Sigi and Kasey gave us that stability, that leadership, through those formative first seasons. Beyond some brilliant memories, they provided us the footing to climb to another level, as a club and as a community that embraces this great game and all of its trappings.
A proper Hall of Fame ceremony is an opportunity to not only induct a new class. It's also a chance to recognize those who have gone before, who led us to this threshold where the likes of Schmid and Keller could make their mark. In that perfect world, organizers would bring back past inductees, an honor roll of giants like Bahr and Beckenbauer, Anschutz and Hunt, Keough and Pelé. But that's not always possible.
In Washington we have our own giants, many of them. To date, eight are enshrined in the National Soccer Hall of Fame. They all played a significant role in paving the path to the day where tens of thousands play the game and more than 40,000 regularly converge on the CLink to support the Sounders.
Washington's first three inductees–Barney Kempton, Vic Weston and Eddie Craggs–were the glue who masterfully held our soccer community together, making Sundays at Lower Woodland a weekly celebration.
Ask anyone who played in and around Seattle from about 1960 to the mid-Eighties and they no doubt have a story about referee Whitey Craggs. Another honoree, Tom Webb, like Whitey, an official for NASL games, was president of both the state youth and adult associations, then served as VP for U.S. Soccer.
Our first women to be enshrined–Shannon Higgins-Cirovski and Michelle Akers–won the first two Hermann Awards for women, and then went onto spark the USWNT to its first (and in Akers' case, also the second) World Cup victory.
Finally, Preki captivated Tacoma Stars crowds with his ball control and scoring wizardry for his first five seasons in America, before departing for the Premier League and later returning to his adopted country to win two MLS MVP trophies.
Eventually, we will have an opportunity to see all these Washingtonians, from Akers to Weston, at the new hall of fame in Frisco. But in our near-perfect world you won't have to wait that long. An upcoming exhibit at THE NINETY by the Washington State Legends of Soccer will honor and introduce you to each of these giants, without the need for travel to Texas.
A version of this article first appeared on October 1, 2015 at the Frank MacDonald Blog