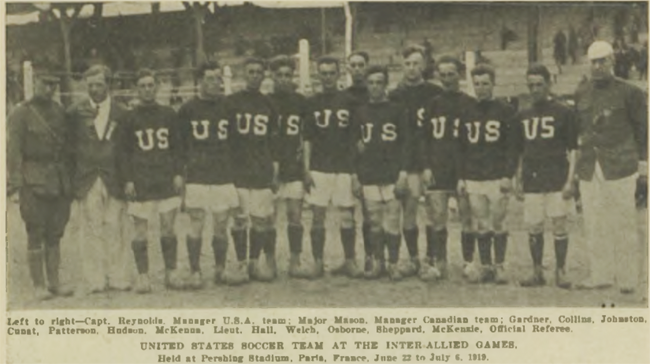 This is the second of three posts on soccer at the Inter-Allied Games of 1919. For background on the event and the soccer tournament read the first essay available here.
Since the Inter-Allied games were not sanctioned by the International Olympic Committee or FIFA the matches are not counted by these organizations as official internationals. The inconsistent and incomplete information regarding the players has made it difficult to identify most of the men who represented the United States in the games as well as those who played on the various teams who competed in the American Expeditionary Force championship.
United States Inter-Allied Soccer Team Roster 1919
Lt. Baker
Hugh Collins* – a Collins appears in the photo but its unknown if it is Hugh or William
William J. Collins
William Crawford
Joe H. Cunat*
Robert S. Dougall
Bernhard Gallagher
Robert Gardner*
Lt. Hall*
John Hampson
Thomas Heelan
James F. Higgins
Maurice Hudson*
Andy Hume
Victor W. Johnston*
Michael J. MacElernay
John M. MacFarlane
Hugh MacKernan
H. Madsen
McKenna* – appears in photo but not on the published roster
Thomas J. McNaught
Meredith J. McTernan
James P. Moore
1st. Lt. Robert R. Norris
William Oliver
Frank Osbourne*
Robert Patterson*
Lynn Reynolds* – manager
Alfred Sheppard*
Harry S. Walsh*
Those marked with a * appear in the team photograph published in the 1919-20 Spalding's Soccer Foot-ball Guide and reproduced above.
Line-ups for the American Expeditionary Force Championship Final May 15, 1919
| | | |
| --- | --- | --- |
| Position | A.E.C. LeMans 80th Division | 3rd. Army 6th Division |
| Goalie | Edward Demmer | J. Smithrada |
| Right Full Back | Joseph Cunard [Cunat] | S. Tinlin |
| Left Full Back | Herman Yost [Gost?] | J. McElerney |
| Right Half Back | Edward Rebold [Heboid?] | Dunn |
| Center Half Back | Charles Daniels | Northey |
| Left Half Back | David S. Morehammer [Murhamen?] | M. Macrory |
| Outside Right | Charles Sneddon | J. Scott |
| Inside Right | Robert H. Gaidner [Gardner] | J. Collins |
| Center | Thomas C. Cullahan [Callahan?] | William Oliver |
| Inside Left | Frank Osbourne | S. Welch |
| Outside Left | Patrick McGraw | P. Moore |
The names in brackets are the corrected spelling if known or a possible alternative spelling that appeared in the Reading Times newspaper on May 19, 1919. The story on the championship highlighted the contributions of men born in Western Pennsylvania and included some different spellings and some additional names not in the starting XI.
A version of this essay was originally posted at www.SoccerHistoryUSA.org in June 2014.