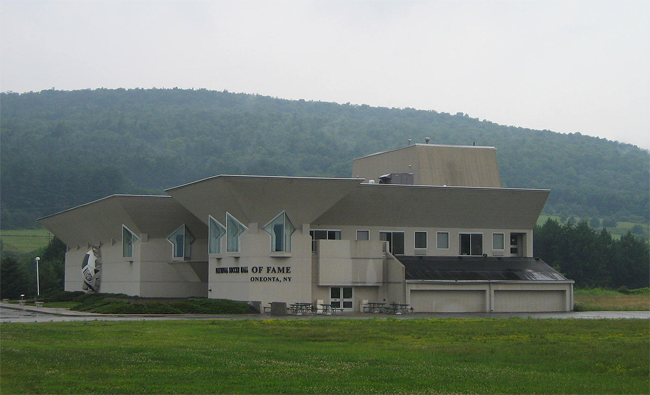 Albert "Al" Colone, former director of the National Soccer Hall of Fame, looks back on the early days and accomplishments of the Society for American Soccer History.
SASH: Describe the origins of SASH? What were some of its initial aims and goals?
Albert Colone: SASH was, as Roger noted, the brainchild of Sam Foulds. Indeed, he was a force in the creation of the Hall, itself. As I recall, Sam had become aware of Baseball's organization of historians and thought American Soccer would do well to establish its own group. The Hall was chartered by New York State as an educational institution and SASH fit our mission "to a T," and as the Hall's director I endorsed all programs that would enhance our mission; especially when Sam pushed an idea. SASH was a very appropriate extension of the Hall's educational mission, I don't know that I was the first president as much as I might have been more SASH's communications arm; more of a secretary. If I was president, it must have been by default.
SASH: What was the state of US soccer history when SASH was founded?
AC: As I recall, we concentrated mostly on seeking-out and trying to recruit members to SASH. And again, as Roger noted, that 1994 meeting at the State University generated an awful lot of interest. It was very well attended with many new faces, as I recall. We used our "newsletter" to feature articles from SASH members and to promote the organization. I have to tell you that during my 19 year involvement with the Hall, me and everyone who became involved during that time-span had their hearts and souls in every aspect of the Hall, believing in the sport, its proud national heritage and its promising future.
SASH: How/when did you become involved in SASH? What was your role in the organization? 
AC: You should know that my active role at the Hall ended in early '97 after an upheaval of leadership within the organization, mostly promulgated from the chronic and ongoing issue surrounding the financial survival of the Hall itself; let alone SASH. That condition rose to the top of our priorities list; how do we keep the Hall alive. There were a number of things that could have been done but we failed to execute them. For me, the Hall was the center for the sport's national history dealing with issues of culture, sport, humanism, emotion and other values; and not all that concerned about the bottom line. I felt that if we did what the Hall was chartered to do, the sustaining resources would follow.
SASH: What were some of SASH's accomplishments and contributions?How has the growth of soccer in the US since the Society's founding affected interest in US soccer history?
AC: In a nutshell, the work we did over the course of my 19 year association had an enormous impact of the sport. The pro leagues, US Soccer and others began to recognize the importance of preserving and promoting soccer's past on the future of the game. We had a major educational role tied to World Cup 1994. People began to believe. A rebirth of the Hall now is compelling in advancing that broad appreciation of the sport in America; and SASH can be a positive force in that movement.
SASH: The NSHOF is in storage in North Carolina and visitors can no longer visit the Hall. What are some of your favorite artifacts from the collection?
AC: The photo collection of the late John Albok; Sam's historic archives and papers; the Milton and Irma Ganz Miller collection; Pele's Santos jersey worn in an exhibition match at Yankee Stadium in 1964; Walt Bahr's career memorabilia; the NASL collection and many others. They were all important treasures.
SASH: Do any memorable stories/vignettes come to mind from your long association with SASH?
AC: The stories and vignettes are too numerous to mention and they all surround personal exchanges over the years with the hall of famers, themselves. They were all wonderful people, real soccer people and in each case, their own storybook. At times, we shared a lot of laughs and sometimes we shed some tears which for me only bolstered my respect and appreciation of them and what they contributed to the sport.