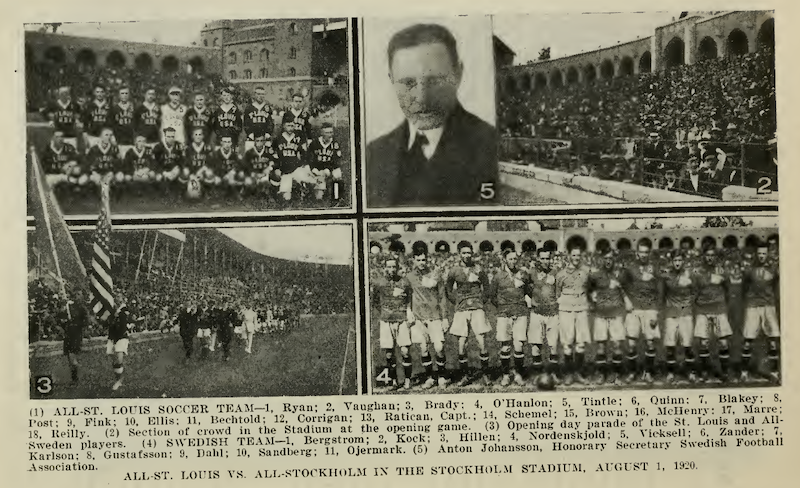 The first international soccer tour by a team largely made up of St. Louisans carried them to Sweden for fourteen matches from August 1 to September 15, 1920.
Organized by former St. Louisan Thomas Cahill, the honorary secretary of the US Soccer Football Association, the matches were played in six cities. Cahill had managed the US national team's first overseas tour in 1916, when the team played in Sweden and Norway, and Bethlehem Steel's 1919 tour of Sweden and Denmark. Playing before as many as 25,000 fans, the team — called St. Louis Soccer Club — lost only twice and gained five ties to go along with seven victories.
Made up of twelve St. Louisans and six Eastern players, the team was captained by St. Louis-native Harry Ratican, who was with Bethlehem for its 1919 tour. Other Eastern players also had international experience. Harrison's George Tintle was with the 1916 and 1919 teams. Philadelphia's Albert Blakey and Brooklyn's Charlie Ellis was with the 1916 team, while Kearny's Dave Brown, who scored eight goals with the St. Louis team in Sweden, had scored two goals with the 1919 team. Hap Marre of the 1920 National Challenge Cup champion Ben Millers of St. Louis, led the St. Louis team with nine goals.
St. Louis Soccer Club tour of Sweden, 1920
Aug. 1, 1920, at Stockholm Stadium: Swedish Selected Team 2 – St. Louis
Aug. 5, Stockholm Stadium: Djurgarden 1-3 St. Louis
Aug. 8, Stockholm Stadium: Swedish Olympic Selected Team 1-1 St. Louis
Aug. 12, Stockholm Stadium: AIK 2-2 St. Louis
Aug. 16, Stockholm Stadium: Swedish Olympic 5-2 St. Louis
Aug. 18, Stockholm Stadium: All-Stockholm 2-2 St. Louis
Aug. 23, Gaffe: Northern Sweden Select 1-4 St. Louis
Aug. 25, Stockholm Stadium: All-Stockholm 3-1 St. Louis
Aug. 29, Stockholm Stadium: AIK 0-2 St. Louis
Sept. 1, Norrkoping: Sleipner 1-3 St. Louis
Sept. 5, Helsinborg: All-Skane 1-3 St. Louis
Sept. 8, Boras: AII-Wastergortland 0-2 St. Louis
Sept. 12, Gothenborg: GAIS 3-3 St. Louis
Sept. 15, Gothenborg: AII-Gothenborg 2-2 St. Louis