The first time the Craggs household received a call asking for Whitey, his mother replied, "There's nobody here by that name," and immediately hung up the phone.
What Gladys Craggs didn't know was that her fair-haired young son had acquired a nickname from his peers, one that would stick for the rest of his 70-some years on this earth, all the while becoming a moniker in Puget Sound soccer that was every bit as recognizable as any player.
From then on, noted George Craggs, "if they asked for Whitey, it was soccer. If they asked for George, it was something else."
On March 29, George "Whitey" Craggs died peacefully in his sleep at the age of 87.
Whitey Craggs should also be considered a pioneer of soccer in Seattle. His tenure as one of the area's premier refs is filled with stories of players whom he refereed but also gave guidance to as young men, including myself. Refereeing is not always easy, but he made it seem easy at times and wasn't afraid to scold you if you misbehaved. A true legend of Washington state soccer.

Brian Schmetzer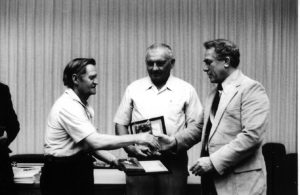 He had officiated thousands and thousands of games, mentored hundreds of referees and interacted with countless players, coaches and fans during his lifelong devotion to the game. And yet, if Whitey had one regret, he had a hundred.
"I spent too much time going down to Woodland Park or wherever," he shared in 2016. "I used to referee games seven days a week. Obviously, you're away from home a lot, which I shouldn't have been. I should've been home."
Craggs clearly missed Pearl, his wife of 61 years. She passed away 16 months prior to that interview. He lost a daughter, Patti, in 2008. He is survived by daughter Georgia and sons Ed and Donny.
The Seattle area soccer community is vast in size but remains connected and close. Word soon spread of Whitey's passing. Yes, he was one of the state's few National Soccer Hall of Fame inductees, but he was more so known for his humor and humility in officiating all sorts of matches, from youth and adult leagues, to college and professional leagues over an estimated 40 years.
If asked to give a word description of Whitey it would be unique! He was definitely one of a kind. Unique in his humor, unique in how he saw the world, unique in how he refereed. He opened the referee door for so many of us.

Betty Schmeck
Craggs might have lived in the shadow of another hall of famer, but he blazed a trail all his own. Edmund Craggs, his father, was among the builders of the soccer landscape that developed in post-World War II Seattle. Eddie coached and organized youth and senior leagues. When his vaunted Buchan Bakers team was winning state titles, it was with minimal contributions from little (5-foot-5) Whitey. Seeking more playing time, the son separated from the father and joined rivals Germania.
By that juncture, yet another hall of fame personality, Barney Kempton, had convinced Whitey to become a volunteer referee in the growing Catholic Youth Organization league. As Whitey recalls, "I said OK. I think you Catholics need a Protestant to keep you honest."
That was the mid-Fifties. Craggs had landed in the Fremont neighborhood in spring of 1947, moving from Montreal. Initially the father and son sought out hockey opportunities, but settled on soccer, which was a going concern.
He once stopped a game at Green Lake so both teams could help put out a house fire; 30 guys in their kits throwing water on a house, with Whitey in the middle, directing traffic. The fire department finally showed up, and we all went back to our game. Funny guy!

Don Anderson
By 1961 Whitey became a certified national referee, and a few years later he was assigned an exhibition game between Brazil's Bonsucesso and the Vancouver Royals and at West Seattle Stadium. The Royals were coached by Hungarian and Real Madrid legend Ferenc Puskas. Afterward, Craggs was curious how he had done. A friend asked Puskas in Hungarian, What did you think of the referee? "He didn't say I was any good," said Craggs, "but he said 'We've had worse.'"
My fondest memories were him refereeing our high school games. It was like going to a comedy show. He made Seattle soccer a better place. Still scratch my head at some of his calls though.

Walt Schmetzer
Partly because he started officiating games played by peers and former teammates and partly by nature, Whitey developed a habit of conversing with players throughout a match. There was some smack spoken, but it was give and take. And while he was often accused of sight impairment by fans, his hearing was just fine.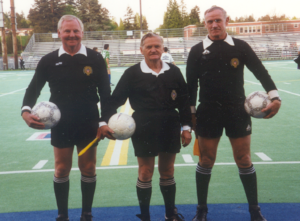 When he worked Sounders games in a sold-out Memorial Stadium in the mid-Seventies, he would exchange barbs with spectators. On more than a few occasions, fans would yell, "You're missing a good game, ref!" Whitey's standard reply was rapid and witty: "I know, but they sent me here instead."
He was often chided for his positioning as a referee; he only occasionally strayed far from the center circle. When reminded that the players had run past him, he quipped: "They'll be back in a minute."
Within the past couple years, the long-retired Whitey answered the phone. A woman from a local Sunday league was desperate to get coverage for matches. "I said I don't run any more. She said, 'Just stand in the center circle, like you always did.'"
What a personality he was. So memorable and influential in so many lives, for generations.

Rachel Berg Belfield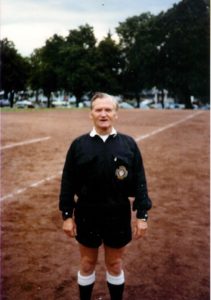 Rather than focus on the catcalls, Whitey marveled in how many friends he made in the game. He was wistful for the days when there was a greater togetherness between officials and players, when a firm word of caution was favored over the drama of issuing a yellow card.
As word of Whitey's death circulated in the past few days, tributes and stories were shared online. Players who learned the lesson of not taking it all –the game, as well as life– so seriously. Stick to your calls, no matter what others think. Use humor to diffuse anger. The terms 'legend' and 'unique' are repeated.
Truly, George "Whitey" Craggs was one of a kind.
A version of this article first appeared at The Frank MacDonald Blog on April 8, 2017.