Among the struggles soccer has faced in finding its place in the American sports landscape has been the disconnect between its fans and the long history of the sport in the US. This disconnect exists even among knowledgeable professionals who are paid to write about the sport, as was evident in the voting for the US men's national team Centennial Best XI–an "all time" team which featured no players from before the 1990 World Cup.
Stated another way, an all-time best list that did not include players from beyond the last 24 years would be unimaginable in other American sports.
In American soccer, there is really only one player who is the yardstick against which all others should be judged. Just as baseball has Babe Ruth, and basketball and hockey have Michael Jordan and Wayne Gretzky, there is one native-born footballer who stands out from the many great players who have starred on America's pitches throughout this century: Billy Gonsalves. While hardly a household name, the oft-described "Babe Ruth of American Soccer" is, without question, the greatest American-born player of all-time.
Beginnings
Adelino Gonsalves was born on August 10, 1908 in Portsmouth, Rhode Island, one of seven children. His parents, Augustine and Rose, had moved to the United States from the Portuguese island of Madeira only two years earlier, and the family would not be in Portsmouth long before settling in Fall River, Massachusetts.
Back in the early 1900s, a young man interested in soccer could hardly be given a better place to grow up. The Spindle City, populated by many English and Scottish immigrants working in the textile mills, was a soccer powerhouse, and home to the powerful Fall River Rovers club, 1917 U.S. Open Cup champions and runners-up in 1916 and 1918. Although an amateur boxer, and a fairly talented baseball player, it was soccer that would capture young Gonsalves' heart. Nicknamed "Billy" by the English and Scottish players with whom he often shared the field, Gonsalves developed rapidly as a soccer player.
At the age of 14, Gonsalves began his career with the Pioneer club of Fall River, and he later played with the Charlton Mill and Liberal teams in that city. Soon becoming known for a cannon-like shot, young Billy soon came to the attention on the Lusitania Recreation Club of East Cambridge, Massachusetts. Gonsalves quickly established himself at the semi-professional level, and led the club to the Boston and District League titles in 1927.
Going pro
In many eras, Gonsalves would have had only a long and successful semi-pro career to look forward to. However, soccer was "major league" in the United States during the 1920s, and the American Soccer League was the league to play in. Throughout its ten-year run, the ASL attracted many great players from Scotland, and also featured the best talent America (outside of St. Louis) had to offer. The Boston Wonder Workers had entered the league in 1924, and promptly made waves by signing a number of top stars, including Scottish international Alex McNab, whose signing that year generated publicity comparable to that of the New York Cosmos' singing of Pelé in 1975. Boston had some success on the field, earning the ASL's Lewis Cup in 1925 and winning the lone American Professional Soccer Championship series that same year. However, the "Woodsies" had not produced any native talent comparable to the New York Giants' goal-scoring sensation Davie Brown.
With an eye towards the future, Boston signed the 19-year old Gonsalves away from Lusitania in late 1927. His acquisition was initially met with some skepticism by Boston fans, who wondered what contribution a teenager could make to a club that already included such colorful and internationally known players as McNab, Bobby Blair, Werner Nilsen, Barney Battles, Johnny Ballantyne and former Bethlehem Steel FC man Tommy Fleming. Young Billy quickly silenced the doubters, however, scoring a brilliant goal within two minutes of his debut on Christmas Eve versus Brooklyn. Gonsalves would score six goals in 20 regular season appearances with Boston that year, including a two-goal game versus Providence on April 22, 1928. Gonsalves also earned the first of his many championship medals, appearing as a sub in the ASL Championship match that year, where Boston upended the New Bedford Whalers, 4-2.
While already an accomplished player, the ability to play beside stars such as McNab enabled Gonsalves to sharpen his game considerably. Learning to "see" the field better, Gonsalves soon developed into the type of player who always improved the play of those around him. In particular, Gonsalves became known as a playmaker—alas, during an era when assists were not an official statistic.
In 1928-29, Gonsalves continued to improve, netting 10 goals while appearing in 32 matches during Boston's 53-game schedule. It should be noted, however, that Billy's appearing in less than all of the club's games was not an indictment of his ability. Rather, the ASL of the era played a schedule of back-to-back Saturday/Sunday matches. As a result, many top teams essentially carried two rosters so as to maximize performance from players in these matches. Stars like Gonsalves and McNab were not asked to play every game.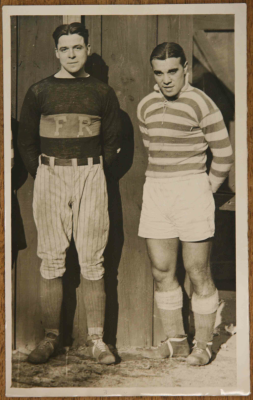 On November 19, 1928, Billy netted the first hat-trick of his young professional career, burning Brooklyn for three goals in a 5-2 win. The team, however, slumped badly from its championship form, finishing a mediocre 15-26-12 during the ASL's two-half season. As a result, the Wonder Workers' management decided to clean house. At the end of the 1928-29 season Gonsalves was transferred, along with mentor Alex McNab, to the powerful Fall River Marksmen, four-time league champions.
Back in his hometown, Gonsalves was paired with another Spindle City native, Bert Patenaude, to form the most lethal American-born scoring tandem ever seen. During a truncated fall season, Gonsalves scored 14 goals, and assisted on many of Patenaude's 25 tallies while leading Fall River to yet championship.
From ASL I to the first World Cup
As the result of internal strife between the ASL and the (now) USSF, a new league was formed to begin play in late 1929. As in the ASL, Fall River established themselves as the best club in the Atlantic Coast League, going 19-1-7 en route to another division title. Gonsalves had his best season to date, netting 22 goals to go with linemate Patenaude's 21 tallies. Fall River also won the U.S. Open Cup in 1930, and Gonsalves added yet another medal to his rapidly-growing collection with Fall River's Lewis Cup triumph in the fall of that year.
At the conclusion of the Atlantic Coast League's schedule, Gonsalves joined Patenaude and 14 other players to represent the United States in the first World Cup, held that summer in Uruguay. Made up primarily of ASL stars, the U.S. team was the surprise side of the tournament, advancing to the semifinals before getting thrashed by Argentina, 6-1. The U.S. team was nicknamed "shot-putters" by the French press, in part due to Gonsalves' towering stature—at 6'2" and 210 pounds, "Big Bill" stood taller than most players of that era, and was a massive force. On the way home, the U.S. played a series of matches against Brazilian club teams, culminating in a friendly versus the Brazilian national team; although shutout during the World Cup tournament, Gonsalves netted a goal during the U.S. 4-3 loss to the home team. Billy's play was so impressive that he was offered a contract by Brazilian power Botafogo. However, Gonsalves decided to return to Fall River to conclude the 1930 season.
Back to a struggling ASL

When Gonsalves and the others returned, they found that the Atlantic Coast League was the American Soccer League again. Treating the Fall 1930 season as the second-half of the season started by the ACL, Fall River would need to repeat as division champions to avoid a playoff. Although Fall River did not begin play until a month into the slate—the Marksmen were on an exhibition tour in Europe while Gonsalves and Patenaude were playing in Uruguay—the Massachusetts team clinched yet another title by finishing mere percentage points ahead of New Bedford to win the second half title (note: because weather conditions often resulted in teams unable to complete full schedules, the ASL adopted winning percentage, and not overall points, to determine league winners). Gonsalves finished fourth in the league in scoring in the second half, grabbing 13 goals in 27 games.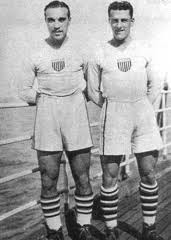 For all the success of its players on fields in both the U.S. and abroad, the ASL was in trouble. The league was years ahead of its time, relying heavily on corporate sponsorship at a time when most professional teams in other sports were privately owned. However, with the advent of the Great Depression of 1929, the ASL found itself reeling. Bethlehem Steel, one of American soccer's great powers, dropped out of the league as the result of the nation's economic collapse, and J&P Coats also withdrew its sponsorship of the Pawtucket franchise.
Similarly, the blue-collar, working class that made up the ASL's fan base was also hit hard by the lack of disposable income. As a result, some teams had to be creative in order to try to survive. Fall River's owner, Sam Mark, realizing that his team always drew well in New York, moved the Marksmen to the Big Apple in 1931, renaming the club the New York Yankees. Gonsalves made the move with the club, and again paced the club in scoring with 10 goals. Billy also grabbed the second hat trick of his ASL career, on March 1, 1931 against the Pawtucket Rangers. The Yankees were a relative non-factor in the ASL division race, finishing third behind two cross-town rivals, the New York Giants and Brooklyn Wanderers. However, the Yankees did go on to win another U.S. Open Cup, defeating the Chicago Bricklayers; ironically, the team was required to play in the Cup final as "Fall River," since they were still the Fall River Marksmen at the time the tournament began.
The ASL limped into the Fall 1931 season a shadow of its former self. Sam Mark moved his team from New York to New Bedford, and Gonsalves soon found himself wearing the Whalers' jersey. However, long-time linemate Bert Patenaude elected to stay in New York, signing with the Giants. Still, surrounded by many former Fall River teammates, including the ever-present Alex McNab, Gonsalves continued to excel, scoring 10 goals and assisting on many of teammates Werner Nilsen's and Tommy Florie's combined 31 tallies. As always, Gonsalves continued to provide opportunities to his teammates, often resulting in goals. Gonsalves added yet another division title to his collection, as New Bedford won the fall slate with a 14-5-2 record. The Whalers would not win the 1931 ASL title, however. In a two-game series against Spring 1931 champion New York, New Bedford won the first leg of the home-and-home series 8-3 before losing the second match 6-0, allowing the Giants to win the series by a 9-8 aggregate.
Although the Whalers lost the 1931 ASL title, they would go on to win the 1932 U.S. Open Cup, defeating Stix, Baer & Fuller of St. Louis in a two-game series; Gonsalves netted the game-winner in the decisive second match. Afterwards, Gonsalves left New Bedford to join the reconstituted Fall River Football Club. Playing during the death throes of the original ASL, Gonsalves led his team to the division crown of what was supposed to be the first half of a 1932-33 season. By the spring of 1933, however, the league had essentially ceased to exist, and was replaced by a second American Soccer League that did not include any of the great New England-area clubs.
To St. Louis and the second World Cup
Essentially a "free agent," Gonsalves received a call from long-time teammate Alex McNab. Now coaching the Stix, Baer & Fuller club they had defeated the year before for the U.S. Open Cup with New Bedford, McNab was eager to add his protégé to the roster. For his part, Gonsalves was just as eager to join his mentor, and he signed with the St. Louis team in time for the 1933 U.S. Open Cup final, which saw McNab's team win the series. Stix, Baer & Fuller repeated as champions in 1934, with Gonsalves and McNab in tow.
After winning the 1934 U.S. Open Cup, Gonsalves again joined the U.S. National Team during the 1934 World Cup. Now playing midfield, Gonsalves was still a key player on the team. After upsetting Mexico 4-2 in an odd match (it was a qualifier, but played in Italy), the Americans had the misfortune of drawing the powerful host club, Italy, for its first match. Although the U.S. was trounced by the Azzuri 7-1, Gonsalves was impressive, and received several offers from professional Italian teams. As in 1930, however, Gonsalves elected to return home–and continue playing for $50 a game. As he later recalled, "[An Italian team offered me] $10,000 plus bonuses, a brand new home…and I think I may have pulled a boo-boo in declining."
Sojourn in St. Louis
Upon his return to the States, Gonsalves won another U.S. Open Cup in 1935—this time with the Stix, Baer club renamed Central Breweries. Following the conclusion of the tournament, Gonsalves was a guest with the second ASL's New York Americans during that club's tour of Mexico.
In 1936, Gonsalves' club changed names again, this time called Shamrocks. With the lack of corporate sponsorship, the club opted to bow out of the St. Louis Soccer League and instead play an intercity schedule of friendlies.  Nevertheless, the club remained a formidable side, making it to the U.S. Open Cup finals that year before being defeated by the Philadelphia Germans, ending Gonsalves' (and McNab's) incredible U.S. Open Cup title run at six straight. In 1937, Gonsalves was again in a Cup final, but again was on the losing side as Shamrocks fell to the New York Americans. Gonsalves distinguished himself during his tour of duty in the St. Louis leagues, however, scoring 54 goals in one season, including a 7-goal game.
With McNab's retirement following the Shamrocks' second Cup defeat, Gonsalves decided to also leave the club, and signed with St. Patrick in the St. Louis Soccer League. Such was Gonsalves' stature that Shamrocks took the unprecedented step (in that era) of suing St. Patrick's for the player's rights. Ultimately, the clubs settled out of court by agreeing to a trade; however, Gonsalves made the point moot by eschewing both teams and, instead, signing to play with Beltmars in the semi-professional St. Louis Municipal Soccer League. By February of 1938 he had tired of the lesser competition, and returned to the St. Louis Soccer League by signing with South Side Radio—persuaded, no doubt, by a recently un-retired Alex McNab.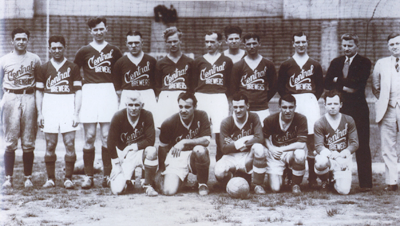 During his five year stay in St. Louis, Gonsalves tallied 101 goals in all competitions (league and U.S. Open Cup play).
In 1938-39, he joined Manhattan Beer, a Chicago-based team playing in the final version of the St. Louis Soccer League (finally attempting a sort of "national" status by including teams from Chicago and Cleveland), leading that club to the 1939 U.S. Open Cup final before falling to St. Mary's Celtic of Brooklyn in the final.
Back to the East Coast
A northeasterner all his life, Gonsalves felt the urge to return home. In 1940, he joined the semi-pro White Plains (NY) Healy F.C., winning the New York National League title in 1941. Later that year, the 33-year old Gonsalves was named to a National League All-Star team that toured Haiti, scoring one goal in five matches.
The National League, in many ways, was a feeder circuit for the second American Soccer League. Not surprisingly, Gonsalves was quickly signed by the ASL's Kearny Scots for the 1941-42 season. In 1942 Gonsalves joined Brooklyn Hispano, where he would close his "major league" career. True to form, Gonsalves' abilities improved the play of all those around him, and Brooklyn took the "double" in 1943, winning both the league crown and the U.S. Open Cup. Brooklyn would repeat as U.S. Open Cup champions in 1944, and would go on to win the ASL's Lewis Cup in 1946 while finishing as league runner-up. As was often the case in Billy's career, his team produced a league-leading scorer, as Brooklyn's Fabri Salcedo converted enough Gonsalves feeds to net 24 goals.
After the 1946-47 season, Billy retired from ASL soccer, and signed on as player-coach of the German-American Soccer League's Newark club. Billy stayed with that club until 1952, and remained in the Newark area until his death in Kearny, New Jersey on July 17, 1977. Given his great career, it is no surprise that Gonsalves was a member of the U.S. Soccer Hall of Fame's inaugural class of 1950.
The greatest American player of his — or any — era
Statistically speaking, Gonsalves does not stand out the way a Ruth or Jordan or Gretzky does (it must be noted that some believe he cracked the 1000 goal mark in his career; however, the utter lack of American soccer statistics for the bulk of his career makes it impossible to corroborate this claim). During his tenure in the first ASL, he never led the league in scoring. He did not set scoring marks like Archie Stark's 67 goals in 44 games with Bethlehem Steel in 1924-25. He is not the all-time U.S. leading goal scorer. Finally, he only scored one goal in five appearances with the U.S. National Team. As a result, one may wonder just how Gonsalves earned his reputation as the greatest American player of his—or any—era.
First, one should consider the high regard in which he was held by his peers. In 1931, after the New York soccer Yankees upset Glasgow Celtic 4-3 on the strength of three unforgettable Gonsalves goals, Celtic manager Willie Maley stated, without hesitation, that Gonsalves was the greatest player he had ever seen.
Walter Dick, a veteran of the first American Soccer League and teammate of Gonsalves on the 1934 World Cup squad, had this to say: "Bill Gonsalves was the greatest shooter I ever saw, and with either leg. I played against…Bert Patenaude of the 1930 World Cup team, Alex McNab, Sindelar of Austria's Wunderteam and many other noted players, but none of them could drive a shot like Gonsalves. His power was murderous on goalies and anybody who got in his way." Indeed–Gonsalves once had a shot hit the crossbar and rebound to the center circle…on the fly.
Jack Hynes, a great star of the second ASL: "Pelé could hit a ball, but he was nothing compared to Billy Gonsalves. Billy could hit a ball and make it fly. He was the greatest."
Harry Keough, a star defender in the St. Louis leagues and a key figure on the 1950 U.S. team that upset England in the World Cup, remembered watching Gonsalves when he (Keough) was a youngster: "He had this habit of pulling away from the ball just as he struck it, and it would make the ball [bend]…The goalie would think he had it, but the ball would bend enough to get just beyond his fingertips."
Other factors contributed to the Gonsalves legend. While his shot was his most notable feature, he possessed excellent ball control, and was a deft passer. His crafty skills wreaked havoc on opposing defenses, and routinely made his teammates better. Gonsalves was also the consummate gentleman on the pitch: legend has it he was never cautioned or ejected from any match for rough play or ungentlemanly conduct.
He also played with some flair.  Another former teammate described how Gonsalves "would meet [a cross from the left corner flag] just outside the penalty area, let it go past him and with the ball still airborne he would catch it on the outside of his right foot…the resultant drive would soar in a great-breaking curve or drop, either in the net or against the post…or damn close!" "He was also said to have a talent for hanging in the air before steering balls into the net with gently directed headers," wrote Dave Lange in his excellent Soccer Made In St. Louis (Reedy Press, 2011).
In the end, however, it comes down to this: Gonsalves was a winner. At every level, Gonsalves won championships. One Boston and District League title. Three championships in the original ASL. Seven ASL Division titles. Eight U.S. Open Cup championships, including six in a row. Eight consecutive U.S. Open Cup appearances. One New York National League title. One championship in the second ASL. Two Lewis Cup championships. A handful of St. Louis league titles.  In short, a resume of success that will not be repeated any time soon. As is clear, Gonsalves' talent was not only the ability to excel on a personal level, but also the ability to always improve those around him. Like Gretzky and Jordan, he understood that greatness is not achieved by oneself, but with the help of others.
The great player is remembered in Fall River with the Adelino Billy Gonsalves Field at Britland Park. A facility for adult and youth soccer, the field finished a major renovation in May 2013, and now boasts synthetic turf.
Professional Statistics
| | | | | | |
| --- | --- | --- | --- | --- | --- |
| YEAR | CLUB | LEAGUE | GP | G | MISC |
| 1927-28 | Boston Wonder Workers | ASL | 20 | 6 | |
| 1928-29 | Boston Wonder Workers | ASL | 32 | 10 | |
| 1929 Fall | Fall River Marksmen | ASL | 22 | 14 | |
| 1929-30 | Fall River Marksmen | ACL | 26 | 22 | |
| 1930 Fall | Fall River Marksmen | ASL | 27 | 13 | |
| 1931 Spring | New York Yankees | ASL | 17 | 10 | |
| 1931 Fall | New Bedford Whalers | ASL | 19 | 10 | |
| 1932 Spring | New Bedford Whalers | ASL | 5 | 0 | |
| 1932 Fall | Fall River F.C. | ASL | 12 | 7 | |
| 1932-33 | Stix, Baer & Fuller | St.LSL | N/A | N/A | |
| 1933-34 | Stix, Baer & Fuller | St.LSL. | 13 | 6 | |
| 1934-35 | Central Breweries | St.LSL | 15 | 7 | combined with Patenaude for 60 goals in all competitions |
| 1935-36 | St. Louis Shamrocks | | N/A | 23 | |
| 1936-37 | St. Louis Shamrocks | | N/A | N/A | |
| 1937-38 | Beltmar Drug | St.LMSL | N/A/ | N/A | |
| | South Side Radio | St.LSL | N/A | N/A | |
| 1938-39 | Manhattan Beer (Chicago) | St.LSL | N/A | N/A | |
| 1940-41 | Healy F.C. | NY NSL | N/A | N/A | |
| 1941-42 | Kearny Scots | ASL | 19 | 16 | 8 assists |
| 1942-43 | Brooklyn Hispano | ASL | 16 | 8 | 4 assists |
| 1943-44 | Brooklyn Hispano | ASL | N/A | N/A | |
| 1944-45 | Brooklyn Hispano | ASL | N/A | N/A | |
| 1945-46 | Brooklyn Hispano | ASL | N/A | N/A | |
| 1946-47 | Brooklyn Hispano | ASL | N/A | N/A | |
| 1947-48 | Newark Germans | G-ASL | N/A | N/A | |
| 1948-49 | Newark F.C. | G-ASL | N/A | N/A | |
| 1949-50 | Newark F.C. | G-ASL | N/A | N/A | |
Author's note: A version of this article first appeared on my philadelphiaatoms.com site back in 2000 and at the Philly Soccer Page on Jan. 10, 2014.