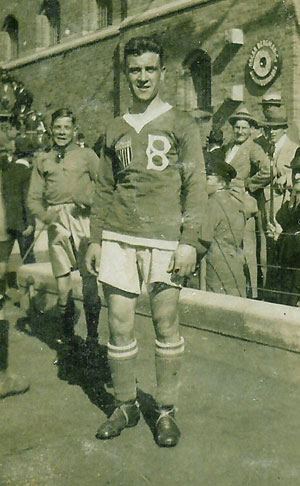 "The Archives Room" features Roger Allaway's articles from his Big Soccer blog, which ran from 2010 to 2013. Look for "The Archives Room" to appear the first and third Wednesday of each month.
The name most often cited as the greatest American soccer player of the pre-World War II decades is Billy Gonsalves, but he has an excellent rival for that designation in the less-famous Archie Stark, who remains today as the most prolific goalscorer the United States has ever produced.
The careers of Stark and Gonsalves, who both were forwards, overlapped a bit, but Stark was 10 years older than Gonsalves. He was born in Scotland in 1898 and moved to Kearny, N.J., with his family when he was 14 years old. His first major championship came with the Scots-Americans of Kearny, when he scored the winning goal of the American Football Association Cup final in 1915.
Perhaps the reason why Stark's star doesn't shine as brightly as Gonsalves' has to do with events of 1930, when Stark passed up a chance to play for the United States in the inaugural World Cup, and then went to Europe as a guest player with a touring Fall River team a few months later. Stark missed out on what could have been a bright feather in his cap, but he had good reasons for his decision. First, while the "first World Cup" has a magical sound about it today, it was not that big a deal at the time. Some American newspapers even seemed unaware that it was a world championship, referring to it simply as the U.S. team's South American tour. Second, the Bethlehem Steel team that Stark had been playing for was disbanded in April 1930, and at the time of that World Cup, for which the U.S. team sailed from New York on June 13, Stark was looking for a new livelihood and trying to get an automotive business started in Kearny. By the time of the Fall River tour of Czechoslovakia, Hungary and Austria in August and September, the business was up and running, and he was able to take time off from it.
That was the second time that Stark was a guest player on an American team's European tour. Stark didn't begin playing full-time for Bethlehem Steel, the team with which he gained his greatest fame, until 1924, but in 1919 he had been a guest player on Bethlehem Steel's tour of Sweden and Denmark.
Stark still holds several important goalscoring records in American soccer. The 67 goals he scored for Bethlehem Steel in the 1924-25 American Soccer League season (a 44-game season) have never been threatened as the single-season record in American first-division pro soccer. Granted, soccer was a more attacking game in that era, but Stark did set his record in the final season under a tougher offside rule that was greatly limiting scoring.
Stark's 260 goals in 10 ASL seasons (with Bethlehem Steel and two other ASL teams), also still stand as the career record in American first-division pro soccer, although Giorgio Chinaglia came close with 242 goals in eight NASL seasons (including playoff goals). In addition, Stark still shares the single-game record for goals in the U.S. men's national team. The four goals he scored against Canada at Ebbets Field in Brooklyn on Nov. 8, 1925 have been matched by Buff Donelli in 1934, Joe-Max Moore in 1993, Landon Donovan in 2003 and Jesus Ferreira in 2022, but never broken. 1925 was a big year for Stark. He scored five goals in a game in ASL play three times that year, in January, May and December.
After getting his start with Kearny Scots, Stark saw his career interrupted by World War I, in which he served in the U.S. Army in France. After the war, he played for two more New Jersey teams, Erie AA and Paterson FC, in the National Association Foot Ball League, and then for New York FC, Bethlehem Steel and Newark Americans in the original ASL, which was founded in 1921 and lasted until 1931. Before retiring in 1934, he played in his adopted hometown once again, but this time for Kearny Irish, in the first season of the second, semipro ASL.
A version of this article was originally posted on the BigSoccer.com website on December 9. 2010.