Like many, I'm a transplant to the San Francisco Bay Area. I found over time that the region has a rich soccer history, much of it of relatively recent vintage and yet oddly unknown and in danger of being lost. For example, I had lived in my neighborhood near downtown San Jose for over a decade before learning by happenstance that an amateur team playing home games in a public park five blocks away won a national championship of sorts in 1992.
The U.S. Open Cup trophy won by the since defunct San Jose Oaks currently resides in the History San Jose Collections Center, the glorified name for the local history museum's large warehouse storing its artifacts when not being exhibited. How the trophy, and a growing collection of items and photographs of Bay Area soccer history, came to be there is the subject of this article.
Background
In 2004, despite a Major League Soccer championship the preceding year, the San Jose Earthquakes were in danger of being re-located. I joined together with a group of fellow fans to form Soccer Silicon Valley (SSV) in a grass-roots effort to keep the team. When the Quakes eventually departed for Houston in 2006, we pivoted and succeeded in bringing back the team. In 2008, the 2.0 edition of the MLS San Jose Earthquakes, an expansion squad which retained at our behest the team's name, colors, records and trophies (modeled on the NFL precedent with the Cleveland Browns), began play. In the meantime, Soccer Silicon Valley harnessed its grassroots momentum by involving fans in charitable work under the mantra, "Building Community through Soccer." In the ensuing years, SSV has engaged in a number of all-volunteer fan-based charitable projects, including among others bringing under-served youth to Earthquakes games for free in the SSV Kidzone, supporting soccer non-profits such as Soccer Without Borders and Street Soccer USA, and working with players to raise funds to combat autism and leukemia.
One of SSV charitable projects focuses on local soccer history. The Soccer Legacy Project brings Earthquakes fans together with museum professionals to collect, preserve and exhibit the history of soccer in the Bay Area. In 2007, I broached the concept over lunch with Alida Bray, executive director of History San Jose, the largest regional history museum in California. Among the museum's vast and diverse array of holdings are the Pueblo Papers, the state's oldest documents dating to the 18th century founding of el Pueblo de San José de Guadalupe, numerous 19th and early 20th century paintings, as well as rare exemplars of the earliest radio broadcast equipment and Apple computer. Bray was enthusiastic about creating a collection of artifacts of local soccer history, and a partnership was formed. Fans could collect artifacts and donate them to the museum, which would "access" them into its collection and professionally preserve them for posterity, to be displayed in professionally-curated exhibits.
Collecting
Tangible evidence of this country's soccer history is held, by and large, in private hands. Fans and former players and team employees tend to have collections, which they accreted either deliberately or by accident. These are sometimes held reverently and displayed, and sometimes boxed in attics or basements and forgotten. I began urging fellow fans and former Earthquakes players to consider contributing items to the museum if not immediately, as part of their estate planning after they pass away. By collecting local soccer artifacts and donating them to the museum, Earthquakes fans save them from potential oblivion. In some cases, we were already too late. For example, former NASL San Jose Earthquakes player Ismael "Easy" Perez, who also starred for San Jose State University and now practices law in town, told me that his wife cleaned out their attic at one point, discarding a game-worn George Best kit in the process. (Best, the late Manchester United great, played briefly in San Jose in the early 1980s.)
In other cases, the project has proved timely. Former NASL player Johnny Moore, who's in the team's Hall of Fame and is affectionately known as "Mr. Earthquake," donated a rare cache of reel-to-reel highlight footage from the 1970s. We were able to have the footage digitized, and some of it is included in a short interview of Moore conducted by then-San Jose State student Harvey Ranola in 2010, as part of a series of pro bono video interviews to collect oral histories from former players:
The MLS San Jose Earthquakes also donated a huge comprehensive cache of electronic images and videos from the first ten seasons (1996 to 2005), along with select items like former goalkeeper Joe Cannon's game-worn kit from his 100th MLS victory. Fans have cleaned out their closets, attics and basements. And I've trolled e-Bay for rare artifacts. Because of this fan-based initiative, History San Jose's collection of soccer-related items has increased in a few short years from only two items before we started — a program from a circa 1990 Mexican club friendly and a season ticket brochure for the inaugural 1996 San Jose Clash – to an ever-enlarging thousands of items today. The San Jose Soccer Legacy Collection at History San Jose boasts the first ball ever kicked in MLS history (at San Jose's Spartan Stadium), game-worn kits from not only Earthquakes players like Landon Donovan, Dwayne DeRosario and Chris Wondolowski, but also the Oakland Clippers, Oakland Stompers, San Francisco Seals, San Francisco Fog, San Francisco Bay Blackhawks, San Jose Frogs, San Jose Oaks, and national team kits from Bay Area products. The women's game is well represented, too, with kits from the Cyberrays and FC Gold Pride.
The San Jose Cyberrays presented a challenge; former general manager Marlene Bjornsrud, told me that many artifacts from the team's short-lived history at Spartan Stadium, were thrown away by the team's San Jose State landlord after the team folded. Luckily, I was able to track down and purchase a sizeable collection of Cyberrays kits from a private collector of women's kits in Rochester, New York and donate them to the museum. San Jose native Brandi Chastain played for the Cyberrays and Gold Pride, along with the U.S. Women's National Team. Before the Soccer Legacy Collection, you would never know Chastain existed or was part of San Jose history simply by visiting the museum. There was no evidence of her to be found. But History San Jose now owns game-worn kits from both her club teams and the national team, along with numerous photographs, a copy of her book and the Sports Illustrated featuring her on the cover.
One of the great things about working with History San Jose is its reverence for items of relatively recent vintage. Bray is of the view that what is currently contemporary will be historic tomorrow. So we collect, and the museum accepts, up-to-the-moment items. For the last several years I have been saving my ticket stubs and game day programs from Earthquakes game and donating them to the museum. Anything from trading cards to hand-painted supporters banners are also fodder for the museum. Player jerseys thrown from their backs into the supporters section have in a couple instances ended up in the museum within days!
"Not all items donated are accessioned into our permanent collection," notes History San Jose collections manager Ken Middlebrook, who says the museum "must carefully consider if a particular item should be placed in the permanent collection…What is its condition? Is it a duplicate?…How would the item be exhibited? Is there research value?"
Most of History San Jose's soccer artifacts are less than 20 years old, virtually all less than 40 or so years-old, but there are some items that date prior to 1974, when the North American Soccer League arrived in San Jose. Among the oldest is a century-old photograph of the San Francisco Vampires soccer team, circa 1913.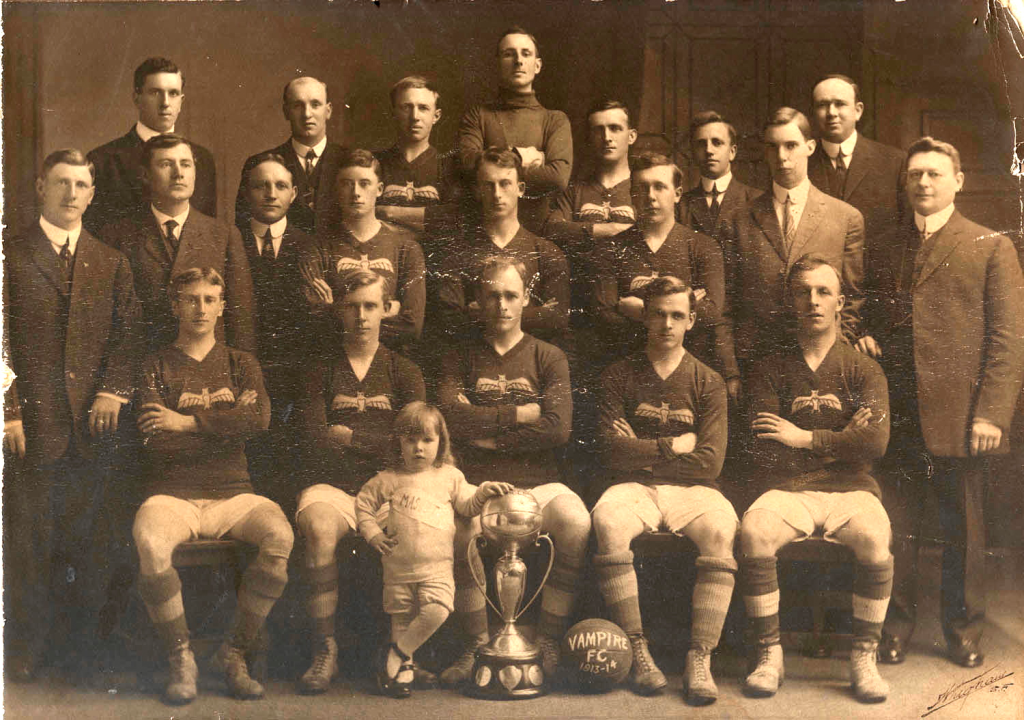 The Bay Area Soccer Legacy Collection also includes items from the youth and recreational game in the Bay Area, and while this aspect of the collection is sizable, there are many holes remaining to be filled in order to tell the full story of the rich tapestry of soccer history here.
Preserving
Collecting and donating artifacts to the museum is just the beginning of the process.
Once donated, items are received at the History San Jose Collections Center at 1661 Senter Road, they go through the "accession" process, by which the museum takes ownership. Donors receive formal paperwork which they can use to seek tax deductions, if they choose. The items are then "cataloged" into the museum collection. Each item receives an individual bar code identification number (akin to supermarket merchandise) and each is individually photographed and receives a sentence or two description in the museum data base with sufficient information (hopefully) for easy retrieval for subsequent display. For example, a game-worn player kit would include not only the name of the player, team, and year, but the color of the kit, size and the fabric as well as information about the game in which it was worn, if known. The fabric is important because the museum deals in all sorts of textiles from all sorts of eras, and items are actually stored in a climate controlled and acid-free environment, with like materials rather than like subject matter. So boxes of soccer kits may be found shelved aside boxes of Victorian attire, while old game programs and Soccer America magazines are kept with other "ephemera" including pre-Civil War government documents.
The cataloging process is performed by Earthquakes fan volunteers after a short tutorial from museum staff, which relies heavily on volunteers in all its operations. While the typical museum volunteer is a retiree, the typical Soccer Legacy Collection volunteer has been a young soccer fan. Early on, we held cataloging "parties" on Saturday afternoons with a dozen supporters group members performing a few hours of work and then going to a bar to watch the Quakes play an away game on TV. While these events were effective in achieving a lot of cataloging a short time period, they proved unwieldy for museum staff, and lately we have relied on fewer volunteers working steady hours during weekdays. One volunteer in particular, Katrina Anderson, has been phenomenal, and it is fair to say that she has made herself the key cog in the entire program.
The catalog process is always ongoing because there never seems to be a shortage of new items. But once an artifact has been through the process it's ready for the public to see.
Exhibiting
The final stage of the process is the actual exhibiting of the Soccer Legacy Collection to the public. Even for the largest and best endowed museums worldwide, the public can only glimpse a small portion of it collections on exhibit at any given moment. Things are more difficult at History San Jose, which has no permanent exhibits on display and only a couple display rooms, in separate buildings, for rotating exhibits on a variety of topics, which have recently included the California grizzly and the history of bicycling in Silicon Valley (which features the oldest bike in the western hemisphere, from the museum's own extensive collection). History San Jose compensates by using other locations in town to showcase exhibits.
Since its inception in 2007, the Soccer Legacy Collection has held three exhibits in three different locations:
In 2010, the museum put together a relatively small rump exhibit of items in the lobby of the Pacific Hotel at History Park, a large collection of old buildings run by the museum in a park setting. SSV held its annual fundraising dinner outdoors in the park with Johnny Moore as the keynote speaker, and the rump exhibit was used to showcase the project among donors. It remained up for only three weeks after the event.
In 2011, the museum presented a major tenth anniversary exhibit at San Jose City Hall commemorating the Earthquakes' and Cyberrays' respective 2001 league titles, City of Champions: 2001, a San Jose Soccer Odyssey, Chastain loaned for the exhibit her sports bra that she wore when she famously removed her shirt following the winning penalty kick in the 1999 Women's World Cup final. The museum took out a million dollar insurance policy just for that one item, which Bray tells me is the largest ever underwritten in the museum's history. I served as curator for the exhibit because, while the museum professionals know their craft, they don't necessarily know soccer history. I learned there is a tension in exhibiting between creating visual interest and in the integrity of the narrative, which despite its focus on 2001 traced pro soccer from the 1960s Oakland Clippers to the present day and the then ongoing effort to build a soccer stadium. For example, I had to explain that a blue foam finger from the MLS-era Earthquakes did not belong in the same display case adjoining a NASL-era five-pointed star soccer ball. The exhibit remained up for five months and was visible during that time to anyone conducting business with the mayor or city council. One of the items these officials saw every day was a fan banner that had hung in the Earthquakes' temporary home, Santa Clara's Buck Shaw Stadium, which said simply, "Build It Now!". It was signed by fans attending the games, including current San Jose mayor Sam Liccardo.
And in 2014, to celebrate the 40th anniversary of the original NASL San Jose Earthquakes, the museum presented another major exhibit, this time at San Pedro Square Market, a sprawling multi-building collection of restaurants, bars and shops akin to Pike Place Market in Seattle. The exhibit, curated by fan volunteer Katrina Anderson, covers much of the same ground as the 2011 exhibit and introduced it to a different and wider demographic. A portion of this exhibit is included online at History San Jose's website:
In addition to formal exhibits, the Soccer Legacy Collection seeks to disseminate the history by making it available through photographs and postcards for purchase from the museum and by making it available to researchers. Recently, local journalist Gary Singh published a book, The San Jose Earthquakes: a Seismic Soccer Legacy, which is appointed with numerous photographs from the History San Jose collection.
Next steps
I mentioned at the outset that the San Jose Oaks, an amateur team playing home games in a public park, won the U.S. Open Cup in 1992. SSV is working with the non-profit San Jose Parks Foundation to build a soccer field house on that site, which is ground zero for soccer in this region. We hope to include among its amenities permanent exhibit space to showcase History San Jose artifacts of local amateur and recreational soccer history.
Long term, I would like to see the Soccer Legacy Collection at History San Jose spun off as an independent local soccer museum with its own free-standing facility near the stadium. We're not ready for that yet, and the public isn't ready either. But I can envision the day.