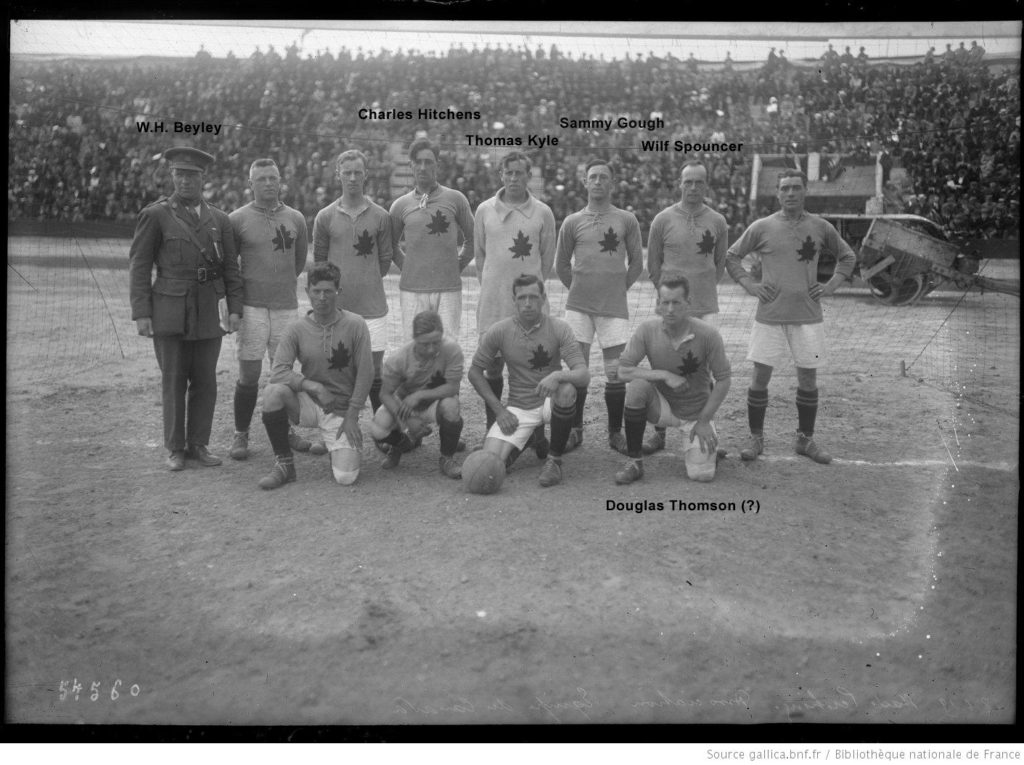 This is the third of three posts on the Inter-Allied Games. The first two in the series can be found here and here.
I worked with Christian Hesle (@christianhesle) to identify the members of the Canadian soccer team that competed at the Inter-Allied Games in Paris in 1919. Using newspapers, websites and Canadian military records we managed to find some information about most of the players. Below are capsule biographies of these men. The team seems to have been put together and coached by W.H. Bayley and many of the players spent time at the Hospital at Bear Wood where Bayley served as chaplain. Click here for more on the soccer tournament including Canada's results. If you have any information on the players, especially those who remain unidentified please contact me using the form at the end of the post. Players who remain unidentified: C. S. M. A. Allan, Cpt. S. J. McGee, Cpl. McKay, Pvt. J. W. Richards, Gnr. G. Taylor.
William Henry Bayley born September 30, 1884 in Birmingham England. He was a chaplain of the Church of England and served at the Canadian Convalescent Hospital, Bear Wood, Wokingham from 1916-19. An enthusiastic proponent of soccer he organized a hospital soccer team that played a variety of opponents including Reading Football Club. He also served on the Army Sports Control Board and organized and trained the Canadian squad for the Inter-Allied Games. After the war he briefly returned to Canada but soon relocated to England as Chaplain at the Royal Merchant Navy School before retiring in 1938. He died in 1957.
Duncan Whitelaw Brewster born June 10, 1893 in Glasgow Scotland. Enlisted at Toronto. A cabinet maker before the war he served in the Canadian Army Pay Crops rising to the rank of Sergeant. He may have played for Baracas before the war and Toronto Scottish after but this is unconfirmed.
Stephen Duncan born June 1, 1893 in Glasgow Scotland. A roofer and laborer by trade, he enlisted in 1916 at Hamilton Ontario. 4 ft. 8 in. with ruddy complexion and dark hair. Served as a Corporal with the 173rd Battalion.
Samuel Gough born March 16, 1897 in Sale England (part of greater Manchester). The Calgary Herald claimed he played for Manchester City but that is unconfirmed. Served in the 10th Battalion during the war, was twice wounded and eventually rose the rank of sergeant. Won the Bennett Shield and scored the winner in the Connaught Cup final for Calgary Hillhurst in 1922 (more on the final here).
Charles Hitchens was born in Quetta, India on September 4, 1891 and had previously served in the British Army unit Liverpool Scottish. A newspaper article in the Jan. 20, 1921 Calgary Herald noted that he had played for Millwall and Liverpool but I couldn't find any record of this. During the war he was a driver with the 4th division. He broke his jaw in a football match in England on May 5, 1918. The article in the Herald says he was the Captain of the Canadian IA squad. Played for the Cumberland United team (image here) that won the Island championship, British Columbia championship and the Grand Challenge Cup in 1920-21. He played in the FA Trophy final in 1926 for losing side Canadian Colliers.
Samuel Frederick Horne born October 14, 1892 in Plymouth, England. As a youth he played in goal for Plymouth Argyle reserves. Was a woodworker by trade. Enlisted at Niagara in September 1915 and served in several units eventually raising to the rank of Lance Sergeant. 5 ft. 2 in. tall with a dark complexion and dark brown hair. In 1916 Horne was wounded in the right hand and knee by shrapnel. After the war he remained in England where he was the landlord of the Cattle Market Inn in Plymouth and played for the Green Waves Club. Died in 1933.
Charles Hutchinson born February 10, 1892 in Besthorpe, Nottinghamshire England. Arrived in Canada in 1911 and signed on in Calgary in 1914. 5 ft. 7 in. tall with a dark complexion and dark hair. Worked as a butcher before the war. Served in the 10th Infantry. Shot in the left arm during the Second Battle of Ypres in April 1915 resulting in a compound fracture of the humerus. Died 1975.

Thomas Kyle born January 2, 1892 in Hamilton Scotland. Stated occupation was coal miner and enlisted in Winnipeg in October 1914. Served as a Lance Corporal with the 27th Battalion and later became Company Quartermaster Sergeant. Severely gassed in July 1917 and spent three months recovering. In the spring of 1919 was hospitalized due to bruising around the ankle sustained in a football match. Played goalkeeper for the Canadian side at the Inter-Allied Games. 5 ft. 9 in. tall with fair hair and complexion. Died August 23, 1948.
Samuel J. Magill born January 10, 1892 in Killyleigh, County Down, Northern Ireland. A laborer from Toronto he served with the 124th Battalion but was later transferred to the Canadian Convalescent Hospital at Bear Wood. Nearly died of pneumonia in 1917 and later suffered from influenza. May have lined up for Ulster Football club in 1915 and again between 1920-22. If he had played for Ulster, he may have been suspended for several weeks in 1922 after striking an official in a match between select squads from Toronto and Hamilton.

Archibald William Marr born October 26, 1890 in Stirling, Scotland. Signed on in September 1914 at Valcartier. Served as a corporal and acting sergeant in the Royal Canadian Horse Artillery. 5 ft. 7.5 in. tall with a dark complexion and dark brown hair. Previous occupation was a salesman and he had a tattoo on his right forearm. Military records indicate he took part in the Inter-Allied games but state that he was on the All Canada Rowing team. There is no record of him as a rower in the IA Games but a Sgt. Marr is listed as part of the soccer team. Died in 1975.
Boyd Mayson born March 31, 1892 in Keswick England and arrived in Canada in 1912. Left winger who lined up for Norwood Wanderers, champions of the Manitoba Football Association league (1912-13) and Connaught Cup (Canadian Champions) winners in 1914 (more on the final here, image here). Enlisted in 1914 and served as a musician with the 11th Battalion in France, eventually rose to the rank of Sergeant. After the war lined up for Keswick in England. Died 1957.
William Alfred "Alf" Spouncer born July 1, 1878 in Gainsbourgh, England. Outside left who played for Sheffield United (1895-97) and Nottingham Forest (1897-1910). Won the FA Cup with Forest in 1897-98 and earned a single cap for England in 1900. Arrived in Canada in 1913 and enlisted two years later serving as a private in the 42nd Battalion. After the war he managed FC Barcelona for the 1923-24 season (more here). Died 1962.
Douglas Thomson born Dundee Scotland, August 10, 1891. A railroad clerk by trade he joined the Princess Patricia's Light Infantry and later served in the Pay Corps. He was twice wounded in action. Before the conflict he lined up for Dundee Violet and Winnipeg Scottish. After the war signed with Millwall before transferring to Aberdeen in 1920 for £500. Moved to Grimsby Town in 1923 making twenty-five appearances and scoring three goals for the Mariners. Later briefly returned to Canada and played inside right for Carsteel and was selected to face the visiting English FA team in 1926.
John Willis born April 18, 1881 in London England. Worked as a carpenter and was drafted into military service in January 1918. Served with the 2nd Depot Battalion and was promoted to Sergeant in 1919.