The original Mark's Stadium was constructed by Sam Mark in 1922 in North Tiverton, Rhode Island. Although it was home to the Fall River Marksmen of Massachusetts it had been built across the state line so that games could be played on Sundays. The pitch was one of the earliest soccer-specific stadiums ever built in the US and was certainly the largest to that point with a capacity of 15,000 spectators. During the Marksmen's most successful period in the mid-1920s, fans would have witnessed many important matches including league games, cup ties and friendlies featuring international visitors. After Mark moved his American Soccer League (ASL) team to New York in 1931 the ground was briefly home to Fall River FC, a rebranding of the Pawtucket Rangers. Although led by future hall-of-famer Harold Brittan the new outfit lasted only a single season and the ASL itself soon folded after a desultory 1932 campaign.
What happened to Mark's stadium?
Most sources indicate that the ground was eventually home to a club called Ponta Delgada. Although formed in 1915, the team really only became well-known in US soccer circles after winning the 1938 Amateur Cup. During the 1940s and into the 1950s the Rhode Island side was one of the best in the country winning the Amateur Cup six times and the National Challenge Cup in 1947. As part of their run to the 1946 final the first of the two legs reportedly took place at Mark's Stadium. Before Ponta Delgada called the location home however, there was baseball and midget car racing at the site. According to most accounts, the stadium was torn down in the 1950s and a drive-in movie theater was eventually built on the site. The location is now home to a sports bar and a large open field.

Most online resources, as well as published materials including Roger Allaway's Rangers, Rovers and Spindles and Alan Foulds' Boston's Ball Parks and Arenas, assume that the original Mark's stadium had been modified to play host to racing and baseball before eventually returning to soccer. Aerial photographs however suggest instead that the original Mark's stadium was torn down sometime before 1938. Close examination of images from 1938 and 1939 does not seem to show any structure that could house 15,000 people but a view from 1952-53 clearly indicates there is a stadium on the site (click on the image below for a larger version). What seems likely is that the original stadium was demolished and a new race track was built at the same location to host midget cars. Later, the track was removed or the grounds were suitably modified to become home once again to a soccer club – Ponta Delgada.
The findings still leave questions – was the orientation of Ponta Delgada stadium the same as the original? Did it have a similar capacity? A player for the club recalled to Steven Apostolov that they drew closer to 3,000, much smaller numbers than regularly attended ASL matches. More research into newspapers and/or planning documents might help to provide a definitive answer to the question of what happened to Mark's stadium.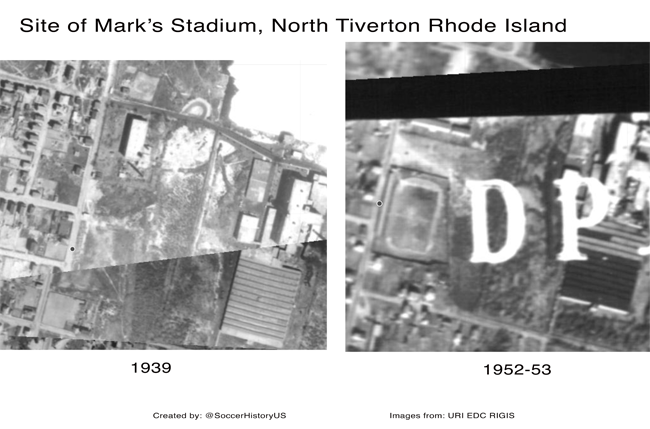 Aerial photographs for many years including 1939 can be accessed here for free, others beginning in 1938 can be found here but there is a fee to purchase them.
Additional Sources
The American Soccer History Archives
Steven Apostolov, "Les hauts et les bas du soccer professionnel aux Etas-Unis à partir du cas du Massachusetts" Ph.D. Thesis, Université Paris VIII, 2011.
If you have any information or photographs of Mark's Stadium please use the form below to contact me. Thanks.

This work is licensed under a Creative Commons Attribution-NonCommercial-NoDerivatives 4.0 International License.
A version of this essay was originally published at www.SoccerHistoryUSA.org on May 27, 2018.