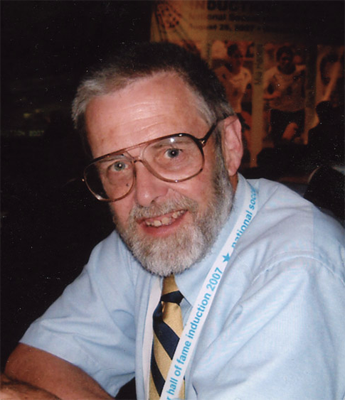 In the first in this series Roger Allaway reflects on the Society of American Soccer Historians (SASH). Allaway was the National Soccer Hall of Fame's historian from 2007-2010 and past president of SASH. He has authored several groundbreaking books on the history of soccer in the United States. Allaway worked for more than 30 years as a newspaperman in Detroit, Toledo, and Philadelphia, finishing his career as a copy editor at the Philadelphia Inquirer.
Describe the origins of SASH? What were some of its initial aims and goals?
I remember this fairly well. SASH was founded in 1993. Sam Foulds was 89 at that time, and knew that he wasn't going to live forever. He didn't know whether any one person could carry on what he had done, and felt that an organization was called for. He and Al Colone, who was the director of the National Soccer Hall of Fame at the time, organized the meeting on the evening of June 10, 1993 at which the plans for SASH were laid. I know the date, because I remember that it was the day after the United States beat England in Foxboro, MA. It was a few days before the Hall's annual induction weekend.
The meeting was held in a room inside the Hall on Ford Avenue in Oneonta, NY. I know that there were 19 people at the meeting, but I can only remember 10 of them: Myself, Colin Jose, Sam Foulds, Al Colone, Jack Huckel, Mickey Cochran, Bill Hoyle, Emil Schillinger, John Tatoian and John Biggs. Colin thinks he has some records that will say who some of the others where.
I had done some thinking about the directions I thought that SASH should go, and was fairly vocal about my views at that meeting. So when it came time to choose potential officers, I decided that if I was going to shoot my mouth off, maybe I should back it up with a willingness to get involved formally. No one else expressed an interest in being president, so I was sort of nominated by default. It was the first time I'd been an officer of anything since a kids' astronomy club when I was 10 years old. (The original vice president, who was not at the 1993 meeting that I recall, was Ric Fonseca, who was a history professor at Los Angeles City College.)
The initial aims and goals: This was the subject of much of the discussion at that meeting. Some people felt that SASH should be actively attempting to do research and writing as an organization. I felt that it should be largely a clearinghouse to enable people doing historical research to contact each other. I don't know that this was ever really resolved.
What was the state of U.S. soccer history when SASH was founded?
It was sort of hit and miss. There had been a few good books written, but not many. I'm thinking particularly of the first of Colin Jose's NASL books (published in 1989), Sam Foulds and Paul Harris' America's Soccer Heritage (1979), Alex Yannis' Inside Soccer (1980) and Tony Cirino's U.S. Soccer vs. The World (1983). But David Wangerin hadn't started writing books, I hadn't, Beau Dure hadn't, many things had not yet been written. There was fair amount of rather inadequate writing floating about. A lot of writers were entranced by the NASL and were barely aware of earlier stuff. Some had bought hook, line and sinker into the idea promoted by the second ASL that the ASL began in 1933 and the first one had never happened. There was a lot of amateurish writing in the Bill Graham Guides by people who had been assigned by their leagues or associations to write something, but who weren't actually writers.
The first thing that I tackled on behalf of SASH, well before I got into writing books and articles, was the capsule bios of Hall of Famers on the wall in the National Soccer Hall of Fame itself. Here, my newspaper background in Detroit and Philadelphia served me well. The week before I retired from the Philadelphia Inquirer in 2005, I told an assistant managing editor friend that the number one thing that I had learned in my nearly 40 years in the newspaper business was how to write short. Those bios on the wall in Oneonta had severe space limitations, and the writer had not used what limited space he had to get to the heart of the matter, but instead had used it up on meaningless platitudes. I used that space to zero in on what the person had done that was the reason why they were in the Hall of Fame.
One thing that both Colin and I were disturbed about back then was frequent use of vague generalities rather than hard facts in much of what was being written about American soccer. We were intent on changing that, and I particularly was intent on increasing the amount of writing in which American soccer history was considered in the economic and social contexts of its times (though I didn't start writing about that myself for a few years yet).
SASH came along at a good time. I consider the great turning point of American soccer to have been Paul Caligiuri's goal in Trinidad on Nov. 19, 1989. When SASH came along, American soccer was starting to take off.
Tell us about Sam Foulds and some of the other "founding fathers" of the Society.
I didn't meet Sam until less than two years before he died, so my impression is not necessarily a good one. Al Colone and Jack Huckel knew him a lot better than I did. Sam was a soft-spoken, kindly man. For most of his adult life, he had owned a heating and air-conditioning business in Revere, MA. He was born in Sherbrooke, Quebec, but lived most of his life in the Boston area. Going quickly through other main people involved in SASH at that time, Al Colone was the director of the Hall of Fame, and had previously been the recreation director of the City of Oneonta. Jack Huckel was the men's soccer coach at Skidmore College in Saratoga Springs, N.Y. and also was the women's historian of the NSCAA. Colin Jose was an electrician who retired just about that time from his job as the quality-control supervisor at a factory that made refrigerators in Hamilton, Ontario, and had been a freelance writer on soccer subjects for many years. John Biggs, who was the chairman of the board of the Hall of Fame, was a mortgage officer at a bank in Oneonta. Ric Fonseca was a history professor at Los Angeles City College.
How/when did you become involved with SASH? What was your role in the organization?
The answer to the first part of this is in my answer to the first question here. As for my role, during the six months before SASH came formally into being on Jan. 1, 1994, Al Colone and I ran SASH as rather a dictatorship. I learned that this is much simpler than running a democracy. An awful lot of what Al and I did in that first year, June 1993 to June 1994, was involved with organizing the American Soccer History Symposium, which SASH took over from the Hall. I must concede that while the first symposium run by SASH was a marked success, the later ones were downhill.
Describe SASH's connections with the National Soccer Hall of Fame.
SASH was entirely a creation of the Hall of Fame. The phrase that I've always used to describe the original SASH is "the Hall of Fame's historians organization." It would not have happened without the sponsorship of the Hall.
What are some of the challenges SASH has faced as an organization?
The most basic challenge that SASH faced was what to do. We really never resolved the question of whether SASH should do things as a group or individually.
We sort of strangled ourselves with constitution and bylaws, which we intended to model after Society for American Baseball Research (SABR). Of course, a difference was that SABR is composed of people who want to do research into baseball history, while we didn't have that. Jack Huckel, who was secretary of the original SASH, can tell you more about that (I don't remember if there was a treasurer. Maybe it was Jack. Maybe it was John Biggs). I remember one little thing that typifies the way that we made some useless efforts. Before the first SASH membership meeting in June 1994, I went to a bookstore and bought a copy of Robert's Rules of Order. What a waste. I actually imagined that I would need it!
Another basic challenge was the makeup of the membership. There were precious few people in SASH who were interested in actually doing research on the history of soccer in America. Many of the members simply wanted to read about it. They regarded SASH as a magazine subscription. This made things very difficult.
What are some of SASH's accomplishments and contributions?
It is a little tricky in spots to differentiate between things that were accomplished by SASH (or in SASH's name) and things that were accomplished by individuals who happened to be SASH members.
I think that the main thing that SASH accomplished as an organization was the organizing of the American Soccer History Symposium, particularly the first one in 1994. The theme of that symposium was the various pro and semi-pro leagues that have existed in American soccer over the years, and it included speakers who had been involved with each of the leagues that it focused on. Putting that together was a lot of work, which I mostly did by phone from Philadelphia, corralling people like Gordon Bradley (not yet a Hall of Famer at that point).
Colin Jose's creation of the Hall of Fame archives was something accomplished by an individual who was a SASH member. And when I say "creation," I really mean that. Before Colin started spending about a week each month in Oneonta in 1996, pulling together the archives, the Hall of Fame's collections where just disorganized batch of unsorted items, some on shelves in the Hall's office and some stored in a ridiculous firetrap, the attic of a closed 80-year-old schoolhouse in Oneonta. At the time, the Hall of Fame's museum and offices were located next door to each other on Ford Avenue in Oneonta, and half-block from Main Street (the schoolhouse was about two miles away). The museum was a one-story former bank branch, and the offices were on the ground floor of a Victorian house called the Wilbur Mansion. They gave Colin an empty room on that floor, put some metal filing cabinets into it, and he set to work going through those collections and organizing them into sensible shape. Later, in 1999, those things were moved into the archives room at the new building, but Colin organized them so that they could be moved into the shelves in the new archives room and stored in logical fashion so that researchers would be able to find stuff. Now this was not a SASH project, but Colin was a SASH member working hard to accomplish something that benefitted the study of American soccer history.
SASH tried to have some influence over the election of Hall of Famers, and we did have a tiny bit of success in that. At the time, up through 1998, selection was done by a USSF committee of eight or 10 people. They did their selecting from among a group of candidates who had been nominated by the state soccer associations and the state youth soccer associations. In 1996, a group of about six of us from SASH held an informal meeting in a common-area room in a dormitory at SUNY-Oneonta brainstorming about this. We decided on a list of people we would like to see in the Hall of Fame, and made a list of the state associations where they had played, so that we could write to those associations touting those people in advance of the 1997 election. Our letter-writing campaign was a complete failure. None of the people we touted was nominated by any of the associations we had written to. So, for 1998, we narrowed our focus some. We reduced our list from 10 players to just three who had retired years before (Alex McNab, Ed Murphy and Adolph Bachmeier), and we wrote strictly to the Veterans Committee, which was located in Chicago, and which had the power to elect one person to the Hall each year. Frank Longo, the head of the Veterans Committee, read our letter, and in 1998, the Veterans Committee elected Murphy to the Hall. So we have a bit of accomplishment there.
And here is one more accomplishment, of a sort. It was during the 1997 American Soccer History Symposium, held at SUNY-Oneonta, that Colin Jose and I decided to go ahead with writing our Encyclopedia of American Soccer History. I don't remember what was said at the symposium that sparked this decision, but I remember talking with Colin as the symposium was ending and our decision to begin the writing, even though we didn't yet have a publisher (and didn't for another six months or so). At the time, it was just Colin and I on that project. We brought David Litterer into it about a year later after seeing the standings of old-time leagues that he had compiled.
How has the growth of soccer in the U.S. since the Society's founding affected interest in U.S. soccer history?
I think it has greatly increased it. Since 1993, a lot of books have been written about various subjects in American soccer history. I think it's a "rising tide floats all boats" sort of thing.
What kind of progress has been made in the field of U.S. soccer history since the founding of SASH?
I think there has been tremendous progress. Of course, along with all the fans that take an interest in history, there also are plenty who would couldn't care less about it, and only want to hear about what Manchester United did last week. But I would have expected that. I get that history isn't everyone's cup of tea.
What do you believe should be the aim/focus of the Society, as it moves forward?
I believe, as I did back in 1993, that the main function should be as a forum for writers and researchers to communicate with each other. However, this is a different world than it was back then. In June 1993, I hadn't even bought my first computer yet. Writers have much greater means for communicating with each other, without SASH's help, than they did back then. So perhaps this clearinghouse function is not as important a one as I am thinking. But I do think that the main aim of SASH should be to encourage writers and researchers to do their own thing, and if needed to offer them advice on where and how to do it.
The NSHOF is now in storage in North Carolina and unfortunately, visitors can no longer visit the Hall and its museum. What are some of your favorite artifacts from the collection?
I am much more interested in facts contained in documents, facts such as scores and standings, than artifacts. But I do have a few favorites. I definitely know my favorite one. At the Hall of Fame in Oneonta, the archives were contained in a large room, a little smaller than a basketball court that was filled with steel shelves. I spent many hours in that room over the years. During all the time that I was involved with the Hall, from 1992 to the closing in 2009 or 2010 (it closed to the public in late 2009, but it wasn't fully shut down until 2010), I lived in Philadelphia, about a 220-mile drive away. I used to go up there three times a year, for about five days each trip. My definite favorite was two pairs of shoes, which sat out on a table near the door that had been donated in about 2005 by Kristine Lilly. They were bright lime green, and what made them interesting was that they were so small. Kristine Lilly had a cannon of a shot, and these shoes showed what little tiny feet she had for launching those booming salvos. In general, however, I have to say that the Hall's collection of old shoes, balls and jerseys left me cold.
Other favorites:
I liked their collections of periodicals. Colin Jose, Peggy Brown and I each were heavily involved in making photocopies of the American Soccer League News, the National Soccer News and the Bill Graham Guides and putting them into sheet protectors in three-ring binders. I presume that they're still in those binders, down in North Carolina.
This is more a knick-knack than an artifact, but in about 2004, there appeared in the archives room in miniature replica of the World Cup, about three inches tall, and looking very much like the real thing, with the proper colors and materials. I used to pick it up in four fingers and hold it over my head and say "I'm Cafu! I'm Cafu!"
On the balcony of the Hall was the trophy that the U.S. women's national team had won at the Four Nations Tournament in China. I very carefully picked it up once. I was shocked. Beer cans are made out of thicker metal than that. I was very careful not to breathe on it, as I didn't want to put a dent in it.
The Hall had (North Carolina now has, I presume) a display on the 1994 World Cup that included the mascot costume, Striker the Dog, which was worn by some unlucky fellow in 1994. I used to walk through the museum, going from the office to the archives room, fairly often. Sometimes this was after hours and the Hall was closed, but the darkness was OK, because I knew where everything was and could pick my way past it fairly easily. Then, once such dark time, I suddenly saw in front of me this looming, eight-foot silhouette of some sort of being. In the tenth of a second before I realized what it was, I almost had a heart attack.
Now here is a least favorite artifact, and this is something that was a negative accomplishment of SASH. In late 1994 or early 1995, Al Colone asked me, as president of SASH, to write a letter to the Organizing Committee of the 1994 World Cup, supporting the Hall's bid to get the archives of the 1994 World Cup. I wrote the letter. The bid succeeded. The archives arrived. They were boxes and boxes and boxes and boxes. They went into the basement of a bank in Oneonta, but when the new building was built in 1999, they were moved into it. They filled half the archives room, up to the ceiling. They were far too much to inventory, especially since they were so heavy and so high off the ground. I'm not aware that anybody ever even made an attempt to look inside them. For all we knew, half of them may have been mundane stuff like requisitions forms for paper clips. A huge waste of space, and SASH and I were partially to blame for it.
Do any memorable stories/vignettes come to mind from your long association with SASH?
I would say that my "long association with SASH" is an exaggeration. The original SASH really only existed for about six years. So some of these things are about SASH and some are about the Hall itself, with which I do feel that I have a long association.
I remember that at the first general membership meeting of SASH, held in a meeting room at SUNY-Oneonta in June 1994, I displayed my naiveté by saying that perhaps the USSF could add something for SASH to the money that it gives to the Hall. Walter Bahr piped up from the back of the room, and said, "What money that it gives to the Hall?"
The year that SASH came formally into being, 1994, I was at a sort of party in someone's room at the Holiday Inn in Oneonta. The room was filled with soccer old-timers, mostly ASL players from the 1940s and '50s. Gene Olaff, the goalkeeper who had been a Hall of Famer since 1971, saw that I wasn't drinking. He went out of his way to find a soda for me and make sure that I felt at home. I thought this was great. I really was a stranger in this group. I was quite a newcomer to the Hall at that time. I was surprised in general by how quickly I was accepted in this group. I later decided that these guys were so accustomed to have been forgotten by posterity, that they quickly took to any younger person who was interested in them and their history.
In June 1999, the Hall opened its new building, on the outskirts of Oneonta, and moved everything from the museum and offices that had been in downtown Oneonta. I had a Plymouth Voyager van at that time, which had removable seats. I took the two rows of back seats out and left them on the porch of the mansion where the offices were located so that I could fill the back with boxes for trips from one side of Oneonta to the other. On one of those trips, the entire van was filled with mannequins that were used for displaying old jerseys. I'm sure that some pedestrian, seeing me driving through Oneonta with this load, thought: "What in the hell is that guy doing? He must have 30 people in that car."
When, how and why did the end of the original SASH come about?
By 1999, it had become clear to me that SASH people, including myself, could do much more outside SASH than in it. I was well into the project of writing the Encyclopedia of American Soccer that was published in 2001 (Colin Jose and David Litterer were co-authors, but I did nearly all of the writing). Others were doing other things. It seemed clear that SASH had become a burden to us. It was getting in the way of the research and writing efforts that we wanted to do, rather than assisting them.
So, I took it upon myself to be the person who gave it the shove off the cliff. This happened at the SASH meeting during the NSCAA Convention in Philadelphia in January 1999. I don't actually remember anything about the meeting at which I did this, other than where and when it was held. I just remember parking my car in the Inquirer lot that morning, and seeing a friend who asked what I was doing at the Inquirer so early in the day, and telling her about the unfortunate task I had in front of me. In any case, one of the reasons why I don't remember the meeting may be that I don't think there was debate over this. I think that everyone else was just as uninterested in continuing as I was. So, if you have to nominate someone as the person who killed the original SASH, I'm the guilty party.
I do remember a meeting the very next day, at which a new and fascinating project cropped up. This was the effort, which I had been completely unaware of until then, to change the Hall's eligibility and election procedures from the previous old-boy-network to a system of performance-based criteria. I thought this was great, and threw myself into this project with a vigor that has not abated yet.